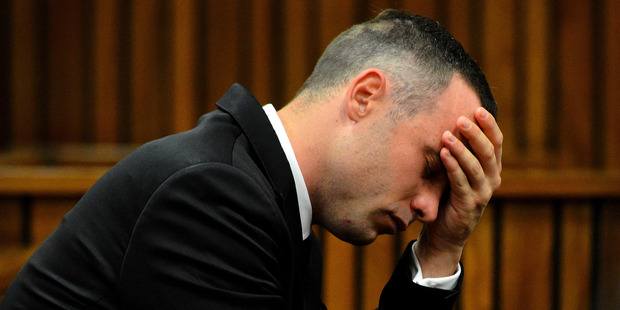 As the murder trial of Oscar Pistorius returned today following a two-week Easter break, a witness has described how she feared the athlete was going to kill himself in the wake of the incident on Valentine's Day last year.
Neighbours Carice Viljoen and her father were among the first people to arrive at Pistorius's Pretoria home after he had shot his 27-year-old girlfriend Reeva Steenkamp.
The court heard today how the athlete carried the body down the stairs a "broken" man, and Ms Viljoen said that she feared he was going to turn the gun on himself when he was asked by emergency services staff to go back up and get Ms Steenkamp's identification.
"I was scared that he might shoot himself," she said. "I couldn't hear him. I called out to him to hurry up with the bag."
Read more:
Defence aims to shore up shaky Pistorius testimony
Pistorius trial: Family denies 'acting' allegation
Ms Viljoen was the second defence witness called on Monday and the fifth overall, taking the stand after her father John Stander, the housing manager of Pistorius's up-market gated community.
Mr Stander, a neighbour and friend who the athlete referred to as "Oom" (Uncle), was the first person Pistorius called after the shooting on 14 February 2013.
Earlier he told the court he received the call at 3.18am and said Pistorius asked him: "Please, please come to my house. I shot Reeva, I thought she was an intruder. Please, please come quick."
Mr Stander said he went over with his daughter and found Pistorius "coming down the stairs with Reeva in his arms".
"He was broken. He was screaming, he was crying, he was praying," Mr Stander said.
The witness implied that he believed Pistorius's actions showed that the shooting was a mistake.
"I saw the truth that morning and I feel it", he said.
"He was desperate to save her [and] prayed to God."
Pistorius's trial for murder is set to enter a critical phase after he faced a difficult cross-examination from rigorous prosecutor Gerrie Nel.
Mr Nel has accused Pistorius of "lying" when his defence appeared to waver from self-defence to involuntary action to simply discharging his gun by accident.
The trial so far has been marked by Pistorius repeatedly breaking down in anguish and throwing up in court, prompting claims in South African media that he has received coaching for his performance - accusations his family has strongly denied.
Watch: Pistorius cries during final cross-examination
The 27-year-old athlete doesn't dispute that he shot Ms Steenkamp, 29, through a toilet door. He claims he fired four times in quick succession without thinking and while terrified, believing that an intruder had climbed up a ladder and through a bathroom window of his Pretoria villa in the early hours of 14 February 2013 and was about to come out of the cubicle and attack him.
The State says that the couple had been having a heated argument and that Pistorius shot his girlfriend after she fled into the bathroom. Witnesses called by the prosecution have said they heard shouting before apparent gunshots.
South Africa does not have trial by jury, meaning Judge Thokozile Masipa will decide Pistorius' fate with the help of two assessors.
Legal experts have said that despite the athlete's shaky early testimony, he should be acquitted if his defence team can show his story of a tragic mistake is a reasonable explanation.
Before the Easter recess, the defence lawyers had only presented three of up to 17 witnesses they say they may ask to testify.
At the outset of the defense's case, lawyer Barry Roux said Pistorius' actions on Valentine's Day last year centered on his "disability" and "vulnerability" and Pistorius' team will likely seek to rebuild the overall argument that his actions were guided by fear and not anger in a country with a high rate of violent home invasions.
- UK Independent