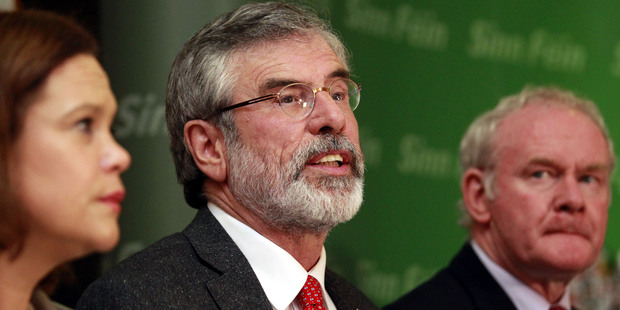 Gerry Adams hit out at the "old guard" within the Police Service of Northern Ireland (PSNI) when he was released after being questioned for four days about a notorious IRA murder in 1972.
But he also offered his support to the PSNI as a force, and repeatedly emphasised that his arrest should not undermine the peace process at a press briefing.
"Those who authorised my arrest could have done it differently," he said.
"They didn't have to use pernicious coercive legislation to deal with a legacy issue, even one as serious as this which I was voluntarily prepared to deal with. They didn't have to do it in the middle of an election campaign."
He said the arrest was a result of the "old guard using the old methods". Prosecutors will now decide whether the Sinn Fein president is to face charges.
Mr Adams's detention at a police interrogation facility near Belfast had threatened to destabilise the Irish peace process, with republicans denouncing it as "political policing".
Officers questioned Mr Adams about the murder of Jean McConville, a widowed mother of 10 who was abducted and buried by the IRA, who kept her body hidden for decades. It is thought he was also interrogated about allegations of IRA membership.
"I want to make it clear I support the PSNI," Mr Adams continued. "The old guard is against change. Whether it is within the PSNI leadership, within elements of unionism or the far fringes of self-proclaimed but pseudo republicanism, they can't win."
He said it was "crucial" to ensure that he was seen to be treated fairly and in the same way as others, saying that "to send any other signal is to encourage the bigots".
He said he was "innocent of any part in a conspiracy to abduct, kill and bury Mrs McConville".
He said the allegations against him were based "almost exclusively on hearsay".
Mr Adams, flanked by Deputy First Minister Martin McGuinness, said that while the past needs to be dealt with, "there can be no going back".
"Peace needs to be built with determination... That remains my attention, my commitment and Sinn Fein's constant endeavour."
MrAdams described the campaign against him as "malicious" and "sinister". But he said the IRA "had gone, it is finished" and said what had happened "could not be allowed" to undermine peace in Northern Ireland. Mr Adams has always denied involvement with the IRA.
A report detailing the evidence gathered by police will now be sent to the Northern Ireland Public Prosecution Service (PPS). It will be up to PPS lawyers to decide if there is enough evidence to bring any charges, and what those charges would be.
The Director of Public Prosecutions, Barra McGrory QC, announced that he has excused himself from involvement in the case, since he had in the past acted as Mr Adams's lawyer.
Mr Adams was arrested last week when he presented himself at the police facility, knowing that detectives were carrying out wide-ranging inquiries in the McConville murder.
On Friday a judge approved a police request to hold the republican for an extra 48 hours for further questioning.
Sinn Fein claimed the arrest was part of a campaign by "an embittered rump of police officers" to settle old scores. Some republican statements were taken as a threat to reconsider the party's support for policing. The party denied it had made any such threats but said there was "a growing anger with every hour" that Mr Adams was held.
Meanwhile, Mrs McConville's son Michael said the family's fight for justice would continue.
"The McConville family is going to stay to the bitter end until we get justice," he said.
Speaking before the release took place, Democratic Unionist party leader and First Minister Peter Robinson said threats to reassess attitudes to policing was "a despicable, thuggish attempt to blackmail the police."
- UK Independent