Unprecedented canonisation of two pontiffs takes place amid controversy over whether John Paul II deserves the honour.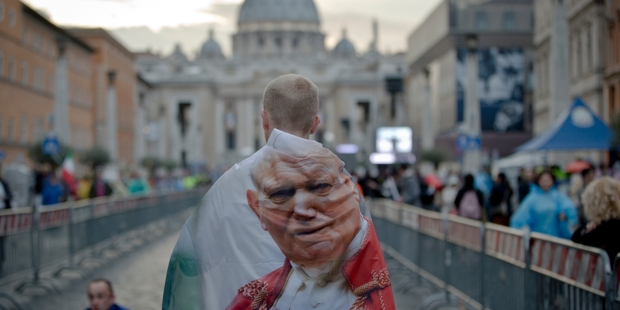 It has been dubbed "the day of the four Popes", an unprecedented occasion in the 2000-year history of the Catholic Church.
It promised to be the biggest Vatican event since millions of pilgrims descended on St Peter's Basilica for the funeral of John Paul II in 2005.
Watch: Raw: Pope leads Vatican Palm Sunday

Last night (NZT), under the gaze of a billion Catholic faithful around the world, the Polish pontiff was made a modern saint with one of his predecessors, Pope John XXIII, nicknamed the "Good Pope", who presided over crucial reforms to the church during the 1960s.
The ceremony was led by Pope Francis, 13 months into his ground-breaking papacy, and was attended by 87-year-old Pope Emeritus Benedict XVI, who has rarely ventured out of seclusion since last year becoming the first pontiff in 600 years to step down.

A nun embroiders in St Peter's Square at the Vatican, before John XXIII and John Paul II were honoured. Photo / AP
"This is an event that Rome has never seen in its history - the canonisation of two Popes in the presence of two living Popes," said Monsignor Liberio Andreatta, the head of the Vatican agency for pilgrims.
Benedict's presence was a reflection of the balancing act that Francis envisioned when he decided to canonise John and John Paul together, showing the unity of the church by honouring Popes beloved to conservatives and progressives alike.
Francis made that point clear in his homily, praising both men for their work associated with the Second Vatican Council, the groundbreaking meetings that brought the 2000-year-old institution into modern times. John convened the council while John Paul helped ensure its more conservative implementation and interpretation.
Rome had prepared for the event, dubbed by one Italian newspaper "il grande P-Day", for months. Twenty giant screens were set up throughout the city to relay the ceremony in multiple languages to those unable to squeeze into St Peter's Square, hundreds of thousands of Catholics poured in from around the world, and more than 4000 coaches converged on Rome from across Europe.
Polish pilgrims carrying the red and white flags of John Paul's beloved homeland were among the first to press into the square, held back by human chains of civil protection workers trying to maintain order.
Most of those who arrived first had camped out on air mattresses and sleeping pads in side streets leading to the square. Others had not slept at all and took part in prayer vigils hosted churches in downtown Rome.
The ceremony was attended by 19 heads of state, 24 heads of government and dozens of cardinals.
Two giant tapestry portraits of the new saints had been draped from the front of St Peter's Basilica. Relics of the two former pontiffs were presented to the giant crowds - for John Paul, a vial of his blood. Rather more gruesomely in the case of John XXIII, it was a piece of his skin, removed from his corpse when it was exhumed for his beatification in 2000.
But a day of triumphant celebration for the Holy See was overshadowed by deep-seated controversy. There is intense debate over whether Popes should be made saints in the first place, and in particular over whether John Paul II is deserving of the honour.
Many Catholics feel it is wrong to canonise Popes because doing so is inherently political - that factions within the church push for sainthood for their favourites in order to strengthen their legacy. Conferring sainthood implies that some Popes are more worthy than others.
There is also disquiet among some Catholics about the speed with which John Paul II has been canonised. Normally, a person has to be dead for five years before the process can start. That period was waived by Benedict, in response to the Pole's huge popularity.
Benedict was keen to fast-track John Paul II, a fellow conservative, in order to validate his own vision of the church, many Vatican observers say.
Francis had little say in the matter of making John Paul II a saint - his job was simply to name the date.
But it was his decision to combine the canonisations in what is seen as a political masterstroke - a deft way of balancing the conservative, some would say authoritarian, papacy of John Paul II with the more liberal, reforming reign of John XXIII.
In his determination to hold the double canonisation, Francis waived the normal two-miracle requirement for John XXIII - he was made a saint with just one under his belt.
Critics of John Paul II accuse him of failing to tackle the scandal of paedophile priests. But the Vatican argues that sainthood does not imply perfection - that no saint in history has been free of faults.
- Additional reporting: Independent, AP
Four steps to heaven
Step 1: Once you have been dead for five years someone can propose you become a saint. Your local bishop will check that there is no huge scandal in your life and the "purity of doctrine" in your writings. Witnesses are called. A report is sent to Rome.
Step 2: The Congregation for the Causes of Saints in Rome will check that you have lived a life of "heroic virtue". If satisfied, it will ask the Pope to declare you Venerable.
Step 3: Next you have to perform an indisputable miracle from beyond the grave. This is an "immediate, complete and spontaneous" cure of a serious disease or condition which medical science cannot explain or refute. You do this to someone who has prayed to you. If you were a martyr you can skip this step. Once the miracle is verified, you are beatified and called Blessed.
Step 4: Another miracle is needed for canonisation. Again you cure someone who has prayed to you to intercede with God for them. This proves you are in heaven. Once the miracle is certified, a Canonisation Mass is held, you are given a Feast Day and thereafter called Saint. The decision is infallible and irrevocable.
- Independent