After the devastation of Superstorm Sandy, the US is having to change the way it views hurricanes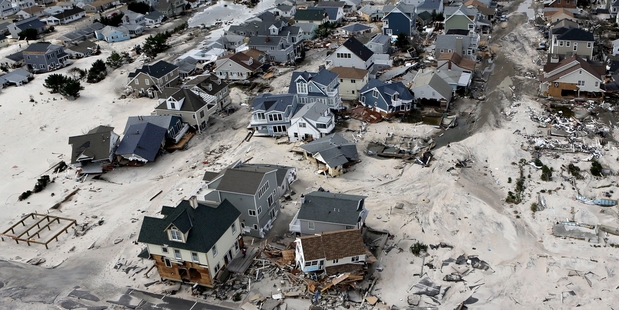 In Alan Weisman's The World Without Us, a dystopian take on a future without humans, he imagines a New York City where subway tunnels are flooded by water, corroding the foundations of skyscrapers that, decades later, collapse as the abandoned metropolis reverts to nature.
This arresting prospect seemed less fantastic after Superstorm Sandy, which pummelled the region in October 2012, killing 159, inundating streets and subways, cutting power and costing at least US$65 billion in damage.
Skyscrapers may not have fallen, but the Big Apple suddenly seemed frighteningly vulnerable to the unstoppable onslaught of nature.
If Sandy was a wake-up call, this week's Intergovernmental Panel on Climate Change update underlined the threat to New York and other vulnerable coastal communities worldwide, including in New Zealand. "Nobody on this planet is going to be untouched by the impact of climate change," said IPCC chairman Rajendra Pachauri, in Japan.
Scientists say the worst is yet to come as greenhouse gases warm the planet, precipitating "severe, pervasive and irreversible" effects, including rising seas, storms and floods.
Which begs the question: if cataclysmic storms like Sandy become commonplace, how will New York - and other threatened cities - defend themselves? It is a challenge that necessitates a root-and-branch change in sustainable urban growth and our relationship with nature.
Traditional protection has been piecemeal on the US northeast littoral, where wetlands and sand dunes have largely vanished under concrete. This enables storm water to surge far inland and stops it easily draining away into the soil.
Post-Sandy repairs have a stop-gap feel.
The director of the Centre for Resilient Design at the New Jersey Institute of Technology, Thomas Dallessio, says a broad overview suggests "there doesn't seem any rhyme or reason, other than to get things back up running as quickly as possible".
"The US Army Corps of Engineers has continued to pump sand in and to rebuild dunes. In other cases hard bulkheads are being created. Or there's been a consensus to leave."
Abandoning homes so flood-prone land can revert to nature is common sense. Such homes are probably uninsurable. But rebuilding dunes seems a Sisyphean task, as sand will wash away in future storms. Other local measures may include inflatable plugs to stop water streaming into subways, even a huge inflatable boom to close the entrance to New York harbour during storms.
New York state has also ordered Consolidated Edison, the electricity company that supplies New York City, to spend US$1 billion to make its grid more secure and prevent Sandy-type power losses during future storms.
Competing jurisdictions - federal, state and municipal - plus competing political agendas pose real problems. While New York Governor Andrew Cuomo, a Democrat, acknowledges climate change and sea level rise, his New Jersey peer, Republican Chris Christie, is more reluctant - wary this may alienate party support should he run for president in 2016 - but admits future superstorms are a possibility.
And then there's the huge cost. After Sandy, Washington earmarked US$60 billion for disaster relief. Some will probably go to mitigation. But what portion and what mitigation?
Seeking design input to find innovative solutions that "increase resilience in the region", the US Department of Housing and Urban Development [HUD] sponsored an international competition.
The 149 entrants were whittled to 10, each submitting up to three designs. The winner, or winners, will be selected by a jury tomorrow.
Perhaps the most audacious, and maybe the most costly, shortlisted project is "Blue Dunes". An artificial island chain designed to check storm surges, it would stretch 100km along the New York-New Jersey coastline. Possibly anchored on rock or concrete platforms and capped with sand, the dunes would sit in shallow water, some 20m deep, on the continental shelf 16km to 19km offshore. The estimated cost is US$10 billion to US$12 billion.
"The idea is to build long, slender, banana-shaped dunes, out in the blue ocean, configured in such a way that storms would hit them and reflect back into the ocean," explains Alan Blumberg, a professor at the New Jersey Stevens Institute of Technology, which has submitted this project.
"We've proved we can do it. The next step is how in detail would you do it? How far out? Do you stagger islands? Do you have gaps for shipping? Do you build islands high? Or wide? There's the economics. There's a lot of things to be done. We've proposed a multi-year study."
One theme that emerges from the shortlist is that designers have worked with nature rather than trying to subjugate it, as was often the case in the past.
The "Big-U," from Danish architectural company Bjarke Ingels Group, proposes a system of levees and berms on Manhattan. Created as parkland and art works, it would stretch south along the Hudson River from East 40th St, around Battery Park and up the East River to 54th St, the end of the island most susceptible to storm surges and flooding.
The "New Meadowlands" project, from the Massachusetts Institute of Technology, envisages a steady conversion of much of the meadowlands, the remnants of once extensive wetlands, into "a regional landscape infrastructural park".
The park would absorb excess storm water, revive habitat and provide recreational areas.
Other competition ideas suggest dissipating wave energy using revived oyster beds, breakwaters and tidal flats, or trying to future-proof urban environments with "green" infrastructure. Thus, a "resist, delay, store, discharge" network in Hoboken, New Jersey - using pumps, levees, and greenbelt water storage, dispersed amid existing buildings and transport corridors - would try to channel and disperse storm surges.
"Some of the projects are very local scale, very doable," says Blumberg. "So they might get money." He suggests a give-and-take feedback between projects. "Say they want to build 12-foot (3.6m) walls around Lower Manhattan [the Big-U]. Maybe you don't have to go 12 feet high if you have 'Blue Dunes'. Maybe you only have to go 3 feet high."
Variations on such solutions, where the urban world adapts to nature, a form of re-wilding, might be a solution for other flood-prone cities in a climate-changing world, one reason the HUD competition has stoked international interest. The Dutch, hardened realists when it comes with dealing with the sea, even when it means moving people to accommodate water in projects like Room for the River, have been conspicuous advisors
Re-engineering coastal cities is only part of the solution. Harnessing the will to drive through plans, and finding money, are major challenges in a political environment where much is said about climate change, but little is done to adapt, despite evidence voters are in harm's way
"People expect change," says Dallessio. "If we end up with plans on a shelf I don't think people will be happy. We shouldn't be putting our head in the sand, or doing the same thing over and over and expecting a different result."