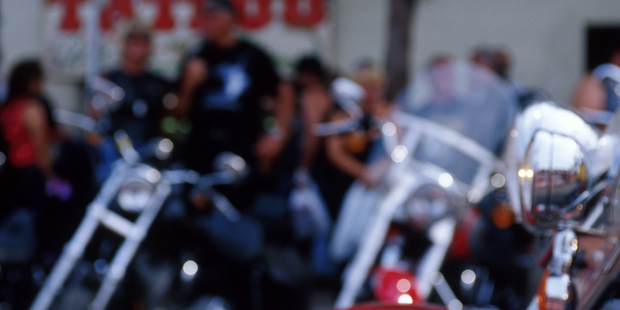 Australia's war on bikies has crossed the Nullarbor with the establishment of another federal strike team in Western Australia joining an unrelenting crackdown in the eastern states.
Backed by tough new state laws, the team follows moves into WA by the nation's biggest gangs, which have patched over local clubs as they compete for turf across the continent.
They include notorious American newcomers The Mongols, Hells Angels, Comacheros and Rebels, already embroiled in wars among themselves that have involved killings, beatings and firebombings.
Large arsenals of weapons, ranging from semi-automatic rifles and pistols to Tasers, have been seized in raids in WA, Queensland, New South Wales and South Australia by anti-gang squads deployed in the growing national effort to crush outlaw motorcycle clubs.
The new WA strike team, involving federal and state police and tax and other analysts, will join others already working in Queensland, NSW and Victoria, all linked to the national anti-gangs squad established by the former Labor Government.
The anti-gangs squad involves officers from the federal police, tax office, customs, immigration, the welfare agency Centrelink and the Crime Commission and other investigators co-ordinated by a new Gangs Intelligence Co-ordination Centre launched last year.
"The police I've spoken to are convinced, absolutely convinced, that many, many, many years ago these bikie gangs lost any innocent social purpose they might have had," Prime Minister Tony Abbott said in Perth.
"They've basically become criminal conspiracies, criminal networks - prostitution, drugs, money-laundering - a whole gamut of crime over and above just random, spontaneous crime."
The commission says bikie gang members are major producers of amphetamines and heavily involved in other illicit drug markets, vehicle rebirthing and firearms trafficking.
They have also moved into crimes including serious fraud, money laundering, extortion, prostitution, property crime and bribing and corrupting officials.
The commission says the gangs collaborate with ethnic crime groups in drug and other criminal operations, and insulate themselves from prosecution through alliances that hand high-risk work to street gangs.
They are also increasingly tapping into international connections with overseas chapters and what the commission says are sophisticated and high-threat organised crime groups operating in Australia and abroad.