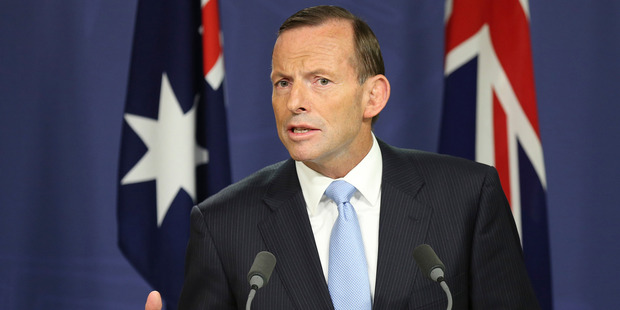 In a row reminiscent of a notorious incident just before a key federal poll, the Labor Party has been accused of whipping up racism against a Liberal candidate standing in a marginal seat in today's South Australian election.
A campaign leaflet delivered to households this week features a blacked-out silhouette of Carolyn Habib, a half-Lebanese councillor standing in the Adelaide seat of Elder, against what appears to be a bullet-pocked wall. "Can you trust Habib?" it asks voters, omitting her first name.
Inside, the flyer refers to her again as "Habib", and links her record in local government to rates increases and healthcare cuts.
Under attack from Liberals including the federal Attorney-General, George Brandis, who called the leaflet "overtly racist", the Labor premier, Jay Weatherill, refused to withdraw it. "This is just pretend offence to try and distract attention from the real issues at stake in this election," he told ABC radio.
The campaign in South Australia has been characterised by dirty tricks, with both main parties filing complaints with the state's Electoral Commission. The Liberals were forced to withdraw a radio ad - which they had paid for and authorised - in which an independent candidate, Elita Malone, accused Weatherill of covering up sexual abuse at a state school.
The latest incident is reminiscent of a pamphlet circulated before the 2007 federal election, in which an Islamic organisation thanked Labor for supporting the Bali bombers. However, that leaflet was fake, and although distributed by Liberal volunteers - including the husband of the retiring MP, Jackie Kelly - it was immediately disowned by the party.
In contrast, said Brandis, Weatherill had "not only not condemned it [the Habib flyer], but condoned it". Habib herself - whose father is Lebanese and mother Canadian, and who grew up in Alice Springs - said it was "a very thinly veiled racist attack against my surname" and "a new low [in a] very, very filthy campaign".
Labor - which is widely tipped to lose the election after 12 years in government - is striving to hang on to Elder, a key seat where boundary changes have reduced its majority to just 1.7 per cent, down from 3.7 per cent.
A campaign spokesman, Tom Koutsantonis, said the leaflet merely attacked Habib's record in local government. "Racism is abhorrent, and I know because it's been targeted at me, and I can tell you that this is not a racist attack," he told the ABC.
"I don't think anyone in the Labor Party thinks that Mrs Habib's ethnicity in any way has any impact on her ability to run for parliament."
In a reference to the child abuse ad, Weatherill said: "There is only one party who have been found guilty by the Electoral Commissioner to have put out inaccurate and misleading information, and that's the Liberal Party."
The Labor flyer claims that since Habib was elected to Marion Council, in Adelaide's southern suburbs, rates have increased by 18 per cent - translating into "a massive (A)$445 ($471) hit to local families".