Man buried with great ceremony 5500 years ago probably part of Neolithic elite.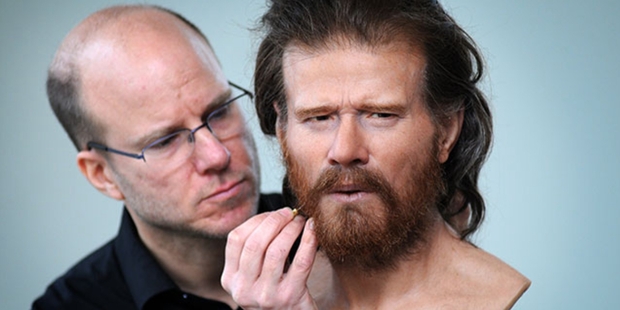 Archaeologists have just completed the most detailed study yet of the life story of a prehistoric Briton.
What they have discovered sheds remarkable new light on the people who, some 5500 years ago, were building the great ritual monuments of what would become the sacred landscape of Stonehenge.
A leading forensic specialist has also used that prehistoric Briton's skull to produce the most lifelike, and arguably the most accurate, reconstruction of a specific individual's face from British prehistory.
The research gives a rare glimpse into upper class life back in the Neolithic.
Five and a half millenniums ago, he was almost certainly a prominent and powerful individual - and he is about to be thrust into the limelight once again.
For his is the prehistoric face that will welcome millions of visitors from around the world to English Heritage's new Stonehenge visitor centre after it opens tomorrow.
The organisation estimates that around 1.2 million tourists from dozens of countries will "meet" him as they explore the visitor centre over the next 12 months. He was born well to the west or northwest of the Stonehenge area, probably in Wales (but conceivably in Devon or Brittany). Aged 2, he was taken east, presumably by his parents, to an area of chalk geology - probably Wiltshire (around the area that would, 500 years later, become the site of early Stonehenge).
However, aged 9, he then moved back to the west (potentially to the area where he had been born) - and then, aged 11, he moved back east once more (again, potentially to the Stonehenge area).
Scientists, analysing successive layers of the enamel in his teeth, have been able to work all this out by analysing the isotopic values of the chemical elements strontium (which changed according to underlying geology) and oxygen which reflected the sources of his drinking water.
He grew into a taller than average man, reaching an adult height of 1.72m. In Neolithic Britain, the average height for adult males was 1.65m, while in Britain today it is 1.76m. He probably weighed around 76kg and had a fairly slender build.
Throughout his life, he seems to have consumed a much less coarse diet than was normal at the time. His teeth show much lighter wear than many other examples from the Neolithic. He also had a much higher percentage of meat and dairy produce in his diet than would probably have been normal at the time.
By analysing nitrogen isotope levels in his teeth, a scientific team at the University of Southampton, led by archaeologist Dr Alistair Pike, have worked out that he obtained 80 to 90 per cent of his protein from animals - probably cattle, sheep and deer.
He had few injuries and there is no evidence of severe illness. But he seems to have died relatively young, probably in his late 20s or 30s, from an unknown cause. However, he was probably given an impressive funeral - and certainly buried in a ritually very important location.
Initially his body was almost certainly covered by a turf mound but some years or decades later, this mound was enlarged to form a substantial mausoleum - one of the grandest known from Neolithic Britain. He was the only individual buried there during his era - although a thousand or more years later, several more people were interred in less prominent locations within the monument.
This great mausoleum - 83m long and several metres high - was treated with substantial respect throughout most of prehistory - and can still be seen today some 2km west of Stonehenge.
Given the ritual significance of the Stonehenge area, even at this early stage, it is possible that he and his father and other ancestors before him had been hereditary tribal or even conceivably pan-tribal priests or shamans in a possibly semi-nomadic society.
It is also likely that such people also played roles in the secular governance of emerging political entities at the time.
Most tantalising of all is the likely link between Wales and the pre-Stonehenge ritual landscape. When the first phase of Stonehenge itself was built around 3000BC, the stones that were probably erected there were not, at that stage, the great sarsens that dominate the site today, but were probably the much smaller so-called "bluestones" (some of which are still there).
Those bluestones originally came from southwest Wales - and were therefore almost certainly brought from there to Stonehenge by Neolithic Britons.
- Independent