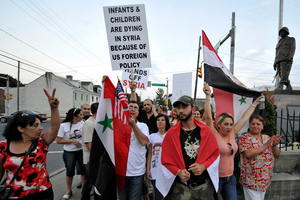 The graves had run into each other, mounds of red earth washed by the rain, blown by the wind.
There was a fresh set undamaged by the elements, one of them just over a metre long; it was of Hania, a 3-year-old girl, the youngest of a family of five to die.
None were killed by chemical agents, the deaths were delivered by conventional weapons in one of the air strikes all too regular in this part of Aleppo province; weapons of the type which had been responsible for most of the lethal toll of 100,000 in the 2 years of pitiless strife.
"I don't want to live any more. Why did Allah spare me? I am old and I have no one left," whispered Abdurahman al-Shibli. The grandfather, in his 70s, was out tending sheep early in the morning when the missile tore into the farmhouse in a village near al-Bab. He sat on his haunches by the little cemetery with apple blossoms drifting in the air, wiping his rheumy eyes.
This place of solitude and grief was a world away from high politics; of dramatic votes in the British House of Commons and of US congressional debates, of constitutional proprieties and geopolitics of whether military action was justified over the slaughter of 1400 people with sarin gas.
The villagers here did not have details of President Barack Obama's red line, or British Prime Minister David Cameron's repeated threats of dire consequences for the regime if it resorted to chemical warfare.
However, they have heard accounts - vague and garbled ones - of what is going on in the halls of power.
But "none of that matters, only this, matters", exclaimed Zeana, a neighbour peering out from under her black hijab, gesticulating at the shattered building where Hania, her parents and two brothers died. "How long has this been going on? How long we hear they are going to help, but nothing will happen, nothing."
She, too, had suffered, she said. Her own brother was taken away by the Mukhabarat, the secret police; he has not been heard of since. How recently? "Twelve and a half years ago, in Hama"; the rulers' brutality is not new here.
But the pervasive, relentless level of violence is something new. "Now they don't bother to arrest any more, they just kill, from tanks, from the air, they killed these poor people for nothing", said 55-year-old Zeana.
"Welcome to Syria, where death is a way of life" is painted on a wall in Kafranbel, a town in next-door Idlib province, which has become known for the black humour of its graffiti. Another says: "Obama! You send us 'weapons' to only continue this conflict! Send us weapons to win our revolution once and for all."
The weapons the rebels want the most are anti-aircraft missiles. These will undoubtedly have an effect on the balance of the conflict. But they are also something the West is the most wary of delivering. US agents are still trying to track down missiles taken out of Libya after Muammar Gaddafi's fall.
Jabhat al-Nusra has become the bogeyman of the revolution for the West and an argument for not carrying out strikes against Assad. Its fighters are the best armed of the rebels, and it is they who would benefit the most from an opposition victory.
But now there is a group who should be even more frightening for the West. Al-Qaeda in Iraq and Syria (known by the gentle sounding name of Isis) - whose leader founded Jabhat al-Nusra in 2011 - is now even more hardline and its fighters have built up a fearsome reputation for dedication to jihad.
Now fighters from more moderate khatibas (brigades) like Jamal, a tough and resourceful fighter himself, are too nervous to talk openly about the Islamists. "You'll see a lot more foreigners this time," he said. "They have come to help; when it's all over they will want to go back to their own countries. Syrians will rebuild Syria."
Jamal looked around at me and grinned: "Don't look so worried, it'll be all right, soon Mr Obama will be helping us."
- Independent