As Australia heads towards what is tipped to be a Liberal landslide in tomorrow's election, Hayden Donnell recaps some of the most bizarre, embarrassing and moving moments of a short but memorable campaign.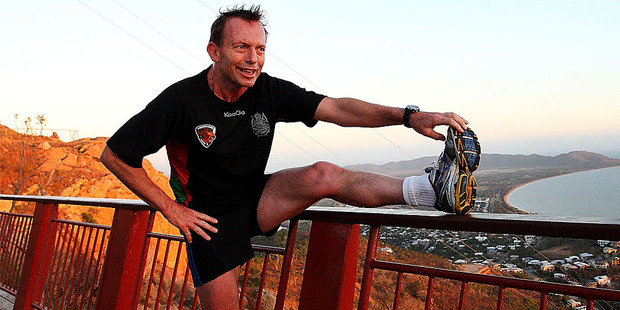 A litany of bungles
Tony Abbott looks set to be the next Prime Minister of Australia despite one of the most gaffe-filled campaigns in recent memory.
First the Opposition Leader was foiled by 15-month-old Angelique Whittaker. Abbott tried to kiss the baby in an attempt at a winning photo-op, only for her to recoil and force him to plant his lips on the back of her mother Evie Whittaker's head.
He went on to tell a crowd of party faithful in Melbourne that no man can be the "suppository of all wisdom". Horrified Victorian MP Josh Frydenberg was seen mouthing "suppository?" to an ashen-faced man sitting next to him.
It wasn't the the end of the embarrassment. A day later Abbott talked up Liberal candidate Fiona Scott as a "young" and "feisty" candidate with "a bit of sex appeal".
Within hours he was repenting, describing the comment as the result of a "daggy dad moment". The gaffe was damaging as it fed into Labor's portrayal of Abbott as old-fashioned and sexist.
Abbott made himself vulnerable to those criticisms again by dismissing the arguments for same-sex marriage as "fashion of the moment". His stance on the issue earned him a rebuff from Katy Perry during a radio interview on 2DayFM. "I love you as a human being but I can't give you my vote," Perry told him after being told informed of his anti-gay marriage stance.
She may not want to vote for Abbott, even if she was able to, but it looks like millions of Australians will on Saturday. Despite the gaffes, the Liberals have widened their lead over Labour to eight points in recent polls surveying two-party preferred vote.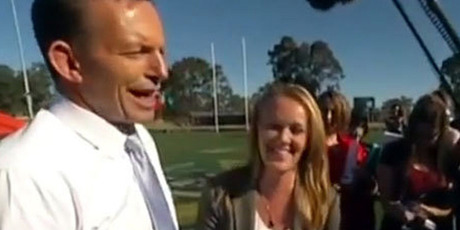 Make-up reveals the real Rudd
One of the most important stories of the election campaign was meant to stay behind the scenes. In the rushed moments before a televised debate in Brisbane, Kevin Rudd was rude to his make-up artist Lily Fontana.
The Prime Minister went on to win the debate against Tony Abbott, but his earlier actions ended up overshadowing the victory. Fontana went on to call Rudd the worst client she had ever had in a post on her Facebook page. Abbott, on the other hand, was delightful.
"One of them was absolutely lovely, engaged in genuine conversation with me, acknowledge(d) that I had a job to do and was very appreciative. The other did the exact opposite! Oh boy, I have [n]ever had anyone treat me so badly whilst trying to do my job. Political opinions aside ... from one human being to another ... Mr Abbott, you win hands down."
Her post was shared 1400 times. It featured on news outlets across Australia. Even though Fontana removed the post, Rudd was forced to address it in a statement to media, saying: "I'm not happy getting make-up put on on the best of days."
The reason the incident had such an outsize impact on Labor's election chances is that it fed the perception of Rudd as an autocratic elitist with a penchant for temper tantrums. It reminded voters of a damaging mini-scandal from 2009, when Rudd reduced a female flight attendant to tears for failing to provide him with a special meal.
"All of us are human," he said in an apology. But the impression stuck. Now it may come back to haunt him again. It's a lesson for any politician. Common decency can make a stronger impression than any argument.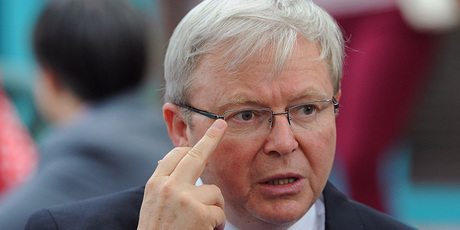 Julian Assange dons a mullet wig, sings John Farnham
Wikileaks entered the political fray in Australia with a promise to be an "incorruptible and ideologically united" party, untainted by "apparatchiks". Its promises started to unravel in August, when it emerged the party had registered a preference for the far right party Australia First above the Greens in New South Wales. Members resigned in droves - among them Daniel Matthews, a Wikileaks co-founder and long-time friend of Julian Assange.
Assange responded with a star turn in a spoof video released by Juice Rap News. In it the Wikileaks founder donned a blonde mullet and sang a rewritten version of the singer's hit song You're The Voice. "We can write what we want to write; we gotta make things leak so we can get much bolder," the lyrics went.
It seems like a farce, but several commentators say Assange could still be a force in Australian politics. Some even speculate that the Wikileaks founder could end up holding the balance of power in Senate from his long term lodgings at the Ecuadorean embassy in London.
The viral 'star'
Tony Abbott can be embarrassing but he has nothing on Stephanie Banister. The 27-year-old mother-of-two delivered the election's true master class in political self-immolation.
Banister was standing for the One Nation party founded by Pauline Hanson in Rankin until her campaign was derailed by a disastrous interview with 7News reporter Erin Edwards that went viral on YouTube. In it she explained her objection to halal food, which she allegedly has plastered with anti-Islamic stickers. "I don't oppose Islam as a country but I do feel their laws should not be welcome here," she said. She went on to repeatedly call the Quran the 'haram' and claim that Jewish people have their own religion that 'follows Jesus Christ'.
Banister tried to defend her comments, claiming the interview was edited to make her look like a "stupid moron". However, she was later convinced to pull out of the election race. Voters may not get what they want on Saturday but at least they can look at Banister and console themselves with the knowledge it could be worse.
Rudd champions marriage equality
Kevin Rudd also went viral. Unlike Banister, he will be pleased with the results.
The Prime Minister, who is a Christian, was fronting ABC Television's Q&A program when New Hope church pastor Matt Prater stood to ask him why he keeps "chopping and changing" his position on gay marriage without warning voters. He batted away the criticism by pointing out he had published a 2000-word essay on his support for gay marriage months before he became Prime Minister. When Prater asked why he would not take his cue on same-sex unions from 'Jesus', Rudd launched into an impassioned defence of marriage equality. He said sexuality was not a choice and argued that if politicians had followed the literal word of the Bible, slavery would still be in force.
His speech was shared widely on social media and made global headlines. It galvanised the socially liberal Labor base - particularly young supporters - and helped reignite Rudd's flagging campaign. However it is unlikely to cause a major turnaround in the polls, as Australia remains deeply divided on gay marriage. Rudd may have saved his best till last, but it is likely to be too little, too late.
- nzherald.co.nz