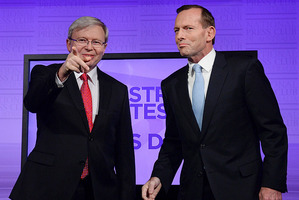 Opposition Leader Tony Abbott has made an unfortunate gaffe during an attack on Prime Minister Kevin Rudd's leadership style.
Launching the campaign for the Liberal candidate for Deakin, Michael Sukkar, Mr Abbott said the coalition was a strong and united team, not a "one-man band".
"You don't get good decisions from a government if all of the decisions are simply made by one person," Mr Abbott said.
"No one, however smart, however well-educated, however well-experienced, is the suppository of all wisdom."
The saying is supposed to be the repository of all wisdom.
Mr Abbott's mistake came after he was judged a narrow loser in the first Leaders Debate with Mr Rudd.
An average of three commercial television network polls taken after last night's debate favoured Mr Rudd at 51 per cent to 49 per cent for the opposition leader.
Mr Rudd used the hour long event at the National Press Club to announce his Labor government would within 100 days of regaining office introduce to parliament a new bill to allow same-sex marriage.
"Folk out there want this to happen,'' he said.
-AAP