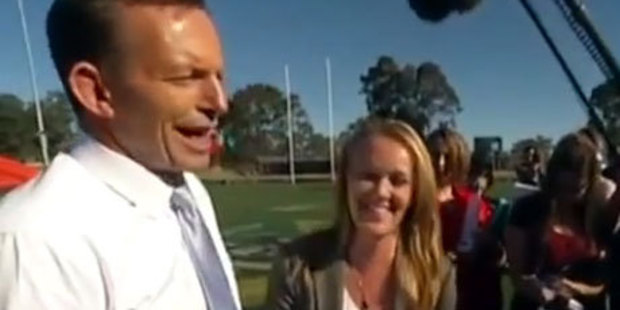 Australian Opposition leader now Tony Abbott says his sex appeal gaffe was a "daggy dad moment''.
On his first trip to the key marginal Sydney seat of Lindsay on Tuesday, the opposition leader was asked how Liberal candidate Fiona Scott compared with predecessor Jackie Kelly.
"They're young, they're feisty and, I think I can probably say, have a bit of sex appeal,'' he told reporters.
Critics say the comments highlight Mr Abbott's views on women.
Back-peddling later that day, Mr Abbott said he been "a bit exuberant" when championing the qualities of his "good mate" Ms Scott.
But Mr Abbott has today dismissed the gaffe as a "dad moment''.
"Look, as the kids said to me I had a dad moment, a daggy dad moment maybe,'' he told reporters in Brisbane.
Labor frontbencher Penny Wong said the gaffe gives a glimpse into the opposition leader's views on women.
"When he goes off script you get a bit a glimpse into what he really thinks,'' she told ABC radio.
"I wasn't altogether surprised and nor were many Australian women, I suspect. This is consistent with some of the views Mr Abbott has expressed over many, many years.''

Shadow treasurer Joe Hockey said it was time to move on.
"I think spending so much time talking about it is entirely trivial,'' he told ABC radio.
"I think there are things that matter much more to the Australian people that we should be dealing with.'
-AAP