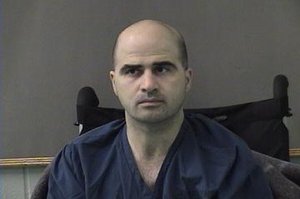 A military court sentenced Nidal Hasan to death for the 2009 shooting rampage at Fort Hood, giving the US Army psychiatrist a path to the martyrdom he seemed to want in the attack on unarmed fellow soldiers.
Hasan could become the first US soldier executed in more than half a century. But because the military justice system requires a lengthy appeals process, years or even decades could pass before he is put to death.
The U.S.-born Muslim has said he acted to protect Islamic insurgents abroad from American aggression, and he never denied being the gunman.
He acknowledged to the jury that he pulled the trigger in a crowded waiting room where troops were getting final medical checkups before deploying to Iraq and Afghanistan. Thireteen people were killed and more than 30 wounded.
It was the worst ever attack on a US military base.
The same jurors who convicted Hasan last week had two options: agree unanimously that Hasan should die or watch the 42-year-old get an automatic sentence of life in prison with no chance of parole.
The lead prosecutor assured jurors that Hasan would "never be a martyr" despite his attempt to tie the attack to religion.
"He is a criminal. He is a cold-blooded murderer," Col. Mike Mulligan said in his final plea for a rare military death sentence.
Hasan made no statement before the sentence and had no visible reaction when it was read. Officials said he will be transported on the first available military flight to the military prison at Fort Leavenworth in Kansas.
For nearly four years, the federal government has sought to execute Hasan, believing that any sentence short of a lethal injection would deny justice to the families of the dead and the survivors.
Hasan has seemed content to go to the death chamber for his beliefs. He fired his own attorneys to represent himself and barely put up a defence during his trial.
He was never allowed to argue in front of the jury that the shooting was necessary to protect Islamic and Taleban leaders from US troops. During the trial, Hasan leaked documents to journalists that revealed him telling military mental health workers in 2010 that he could "still be a martyr" if executed.
All but one of the dead were soldiers, including a pregnant private who curled on the floor and pleaded for her baby's life.
The attack ended only when Hasan was shot in the back by an officer responding to the shooting. Hasan is now paralyzed from the waist down.
Death sentences are rare in the military, which has just five other prisoners on death row. The cases trigger a long appeals process. And the president must give final authorization before any service member is executed. No US soldier has been executed since 1961.
A look at the Fort Hood shooting case:
WHAT DID JURORS CONVICT HASAN OF?
Hasan was convicted of 13 specifications of premeditated murder and 32 specifications of attempted premeditated murder under the Uniform Code of Military Justice.
WHY DID THE CASE TAKE SO LONG TO GET TO TRIAL?
Judges in the case granted a series of delays for preparation or other issues, often at the request of Hasan or his attorneys. A fight over Hasan's beard, which violates military regulations, led to a reprieve shortly before the trial was expected to begin last year and the eventual replacement of the judge. Legal experts have said authorities are doing their best to avoid mistakes, noting that Hasan would have multiple mandatory appeals after being sentenced to death. Military appeals courts have overturned most death sentences they've seen in the last three decades.
WHAT DID FAMILY MEMBERS OF THOSE KILLED TELL JURORS?
Dozens of family members and survivors of the November 5, 2009, attack testified about their overwhelming grief and attempts at recovery during the sentencing part of the trial.
Angela Rivera said one of the saving graces after her husband, Maj. Eduardo Caraveo, was killed was his voicemail greeting, and for years she had his cellphone kept active so she could call it and hear his voice. Shoua Her recalled how she and her husband, Pfc. Kham Xiong, talked about growing old together and having more children. Now, she said, her children know their slain father only through memories or stories. Staff Sgt. Patrick Ziegler told jurors he was shot four times and underwent emergency surgery that removed about 20 per cent of his brain. He is now paralysed on his left side, unable to use his left hand, and blind spots in both eyes prevent him from driving.
WHAT DID HASAN SAY?
Hasan acted as his own attorney but called no witnesses in his defence and has said very little throughout the trial. During the penalty phase, he did not present any evidence and rested his case without testifying. Hasan had wanted to argue that he carried out the shooting in "defence of others" - namely, Taliban insurgents fighting American soldiers in Afghanistan - but the judge denied that strategy before the trial started. One of the few times Hasan spoke to jurors was during the trial's first day more than three weeks ago. He said during a brief opening statement that the evidence would "clearly show" he was the gunman, but that it wouldn't tell the whole story.
WHAT IS HASAN'S PHYSICAL CONDITION?
Hasan was shot in the back by officers responding to the shootings. He is paralysed from the waist down, confined to a wheelchair, uses a catheter and wears adult diapers. His doctor testified earlier this year that Hasan cannot sit upright for more than 12 hours a day without his concentration being affected. His disabilities haven't appeared to be an issue in the courtroom. He did not ask for as many breaks during trial as his doctor suggested he would need before trial. Hasan has been transported from jail to Fort Hood each day by military helicopter.
IS HASAN STILL CONSIDERED A SOLDIER?
The jury dismissed Hasan from military service as part of its sentence, and ordered him to forfeit all pay and allowances. During the trial, Hasan had retained his rank of major and his salary even in jail. He wore a green camouflage uniform in court, instead of the dress uniform defendants typically wear in a court-martial. The judge, Col. Tara Osborn, has said the camouflage uniform was easier for Hasan to wear as a paraplegic.
WHAT HAPPENS NEXT?
Before an execution date would be set, the death sentence will face years, if not decades, of appeals. It would need to be affirmed by Fort Hood's convening authority, which would prompt automatic appeals at two military courts for the Army and then the armed forces, said Victor Hansen, a military law expert at the New England School of Law. If those fail, Hasan could ask the US Supreme Court to review his case and file motions in federal court. The US president must eventually approve a military death sentence. Many death row inmates have had their sentences overturned on appeal, and no active-duty soldier has been executed in the military system since 1961.
- AFP, AP