Amid the chaos and bloodletting, some Egyptians despair the death of democracy, others want to fight on.
The Muslim Brotherhood member
Rami Ahmed Attia, 22, an engineering student, got a bullet in his right arm as he attended an anti-army protest in Cairo's Ramsis Square. "I've participated in all the elections after the 2011 revolution. Now my votes have been thrown into the trash. It's become impossible to return back and to believe in democracy again. I go down to the street to peacefully protest, and they try to kill me and to kill my brothers, and fabricate excuses to arrest our leaders. Now I am giving up my studies so that I don't have to leave the street."
The pro-military politician
Waheed Abdul Majeed is a leader of the National Salvation Front, the political party that leads the secular opposition against the Muslim Brotherhood. The party supports the actions of Egypt's military leader, General Abdelfattah al-Sisi, in removing President Mohammed Morsi from power. "The Muslim Brotherhood as a political group has ended, and it turned out to be a terrorist group. Their protest camps were not peaceful gatherings. The operation to end them was successful.
The Egyptian people are proud of these attacks, as it was popular will that pressured the army to do this. Egypt will face a new wave of armed terrorism after the Muslim Brotherhood decide to take off their political mask and show their true, terrorist, face."
The disillusioned activist
Gamal Edin Mahmoud, 20, a geology student, took part in the 2011 revolution that ousted President Hosni Mubarak. Back then he believed that Egypt was experiencing a rebirth as a democratic country. Today, he is disillusioned. "For us the return of Morsi is not a priority. Our goal is to topple the military. They are the real rulers of Egypt. Our revolution didn't fully succeed, and so they go and impose emergency rule. This is not democracy, and we will stay in the street until they return our country to us."
The policeman
Major General Medhat Menshawi commanded the special operations forces that led the crackdown on a pro-Morsi camp at Cairo's Rabaa al-Adewiyeh mosque. Video footage showed his men using tear gas and live ammunition to dispel the crowds. More than 250 protesters were killed in the space of a few hours. A number of his own officers were also killed. "Some [pro-Morsi] snipers shot at us, killing two officers and a soldier. They gave their lives for the cause. When we took over the mosque the protesters scurried away like rats in front of us. They pretend to be heroes only from behind the microphone, but I swear to God they are the ones inciting this bloodshed. I expect they will try to launch sabotaging attacks. We will not allow them to do that. Enough is enough for sabotage. The people need to return to a normal life."
The Christian
Rasha Mahrous, 27, is Coptic Christian who planned to leave Egypt during the rule of the Muslim Brotherhood, fearing that Christians could become second-class citizens in Muslim-majority Egypt. She changed her mind after the army coup against Morsi. "I was desperate for the future of the country, but now there is a hope that there will be rule of law based on equality. Dismissing the Muslim Brotherhood sit-ins is a right step, it should have happened a long time ago. I don't feel safe because of threats by the Islamists. We know that the situation will be difficult, especially for the Coptic people. There might be some terrorist operations here and there, but ultimately the army and the police will control until the state regains its power."
The Muslim Brotherhood politician
After Morsi was deposed, the party's general secretary, Mohamed el-Beltagi, called fellow Muslim Brotherhood supporters out on to the streets to demand his reinstatement. He accused Sisi of carrying out a coup that would lead to civil war, Last week, it was reported that he had been arrested, and that his daughter had been killed in the protests. "I swear by God that if you stay in your homes, Abdelfattah al-Sisi will embroil this country so that it becomes Syria. Abdelfattah al-Sisi will push this nation to a civil war so that he escapes the gallows."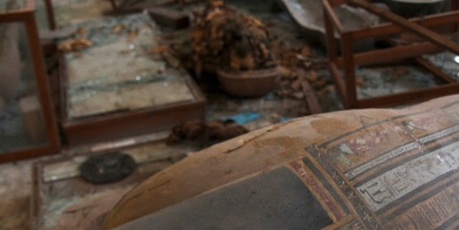 The 'martyr'
Asma el-Beltagi, 17, was the daughter of Mohammed el-Beltagi. She was one of more than 600 people killed on Thursday, dying when security forces attacked the sit-in at the Raba al-Adewiyeh mosque. Her death certificate, seen by the Sunday Telegraph, said she had been shot in the chest, that her skull was crushed and her left leg broken. "She was the best in school. She was calm, and had a good manner and a kind heart," said Hoda Mohammed, one of Asma's aunts. "She always participated in Muslim Brotherhood activities. "
The field hospital doctor
Mohammed Abdul Karim, 25, is a doctor in a mosque that has become a field hospital. Numerous people he has tried to help have died because of lack of medical equipment. "All we have are IV drips and bandages, that is it. What can we do with those? Nothing at all against the bullets of the snipers."
The hardline Islamist
"Abdallah" is a member of Gamaa al Islamiyya, an extremist group, the military wing of which was responsible for a string of terrorist attacks, including the massacre of 62 foreign tourists in the city of Luxor in 1997. The organisation was banned under Mubarak and Abdallah spent 14 years in jail. The organisation has now formed a political wing that supported Morsi. Abdallah spent a month in one of the Brotherhood's Cairo protest camps before it was violently cleared by the security forces last week. "In the past, the authorities tortured us, they put us in jail. But we learned from our mistakes, renounced violence and tried to use the tools of democracy. But when we did that, they took away our president and put us back in jail. And they still call us terrorists. They're making us terrorists again. We suffered so much under the former regime. And then for one year, we felt free. But now you've seen the new view of democracy, it's like this."
The secular Muslim Brotherhood supporter
Naglaa Hosny is a housewife and part-time lecturer. She voted for Morsi in the second round of Egypt's presidential elections out of concern at the possibility that his rival, Ahmed Shafiq, who served as Mubarak's last prime minister, might win. She has now joined Morsi's supporters in their protests. "I'm not a supporter of the Muslim Brotherhood, but that doesn't matter. What is happening in this country is wrong. People are celebrating the killing of other human beings. The country is turning into two camps."
The Muslim Brotherhood spokesman
Ahmed Aref has worked round the clock to get the party's opinions and argument into national and foreign media since the coup against Morsi. "There is no alternative but to regain legitimacy by toppling this military coup. We will continue using all peaceful means, such as the million man demonstrations and grassroots activism. The coup left no room for political negotiation. When the repression machine is severe, it might lead some people to leave the peaceful protest."
The ordinary citizen
Hussein Mahmoud, 38, an accountant, joined last week's demonstrations in protest at the military coup and the violent crackdown on supporters of Morsi. "I am here because I reject the military coup. I never supported Morsi, but now General Sisi is killing his own people. When we protest the police start firing tear gas. I heard live bullets as I ran away."
The mortuary worker
"Dr Ahmed" is a pathologist working inside Cairo's central Zeinhom mortuary, which has dealt with hundreds of corpses in recent days. Although the refrigerators are now full, the bodies keep coming. Although he voted for Morsi, he is critical of the Muslim Brotherhood-led Government's failure to fund his facility adequately. "We're under so much pressure, the morgue is in chaos. We're working as fast as we can but there are still 85 bodies waiting in the courtyard, and more are still arriving in ambulances. A few of my colleagues have collapsed, we're all exhausted. I look at these people and I know they're my brothers. I feel guilty for not falling with them."
The protest organiser
Mohammed Okda is a spokesman for the Anti-Coup Alliance, a group that helped to organise last week's protests. He spoke from a mosque in Cairo's Ramsis Square that last week become a makeshift field hospital. "This is not about the Muslim Brotherhood. This is necessary. It only takes a few good people to stand against evil. These people are dying. And yet they think we are terrorists. My own sister is gloating now over what is happening here, because she supports the army. My own sister!"