Election observers concerned by number of people turned away at polling booths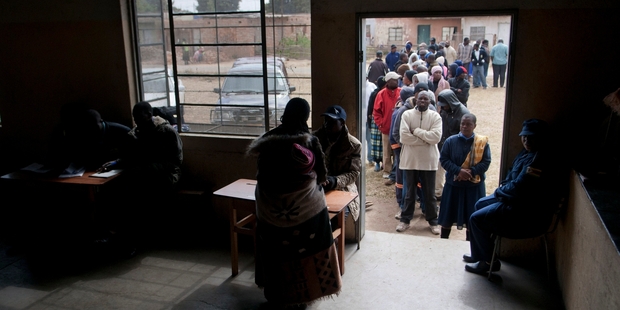 Counting is under way in Zimbabwe's tightly fought election, amid high turnout and accusations of rigging by President Robert Mugabe's allies who wish to extend his 33-year rule.
Mugabe's Zanu-PF Party is confident of victory, as the opposition led by Prime Minister Morgan Tsvangirai has hit out at "monumental fraud".
A senior member of Zanu-PF told AFP that his party has "romped" to victory "in a very emphatic manner". Similar sentiments were relayed to Reuters.
Results are expected to emerge over the next few days and releasing unofficial results early in Zimbabwe is illegal.
But Didymus Mutasa, organising secretary for Zanu-PF and secretary of state for presidential affairs, claimed his party were doing better than in 1980, when Mugabe assumed power
However, the largest group of election observers in Zimbabwe, the Zimbabwe Election Support Network (ZESN), last night condemned the poll as "seriously compromised".
It said there was a "systematic effort to disenfranchise up to a million urban voters".
Large numbers were turned away from polling stations because their names were not on the voters' list. Others were told they were registered in places where they had never lived; one woman in Bulawayo was told she was listed in a town nearly 320km away.
Among those denied the chance to vote was Josiah Mutandwa, 59, in Budiriro township in the capital, Harare. "I came to check my name was on the roll before elections because they said they might try to twist things," he said. "I'm so disappointed because I wanted to vote: it's my right."
As for how many might have shared Mutandwa's experience and been turned away, Tendai Biti, the Finance Minister and an opponent of Mugabe, said: "Thousands and thousands of people are being disenfranchised by virtue of not finding their names."
An Indonesian election observer said that while "glitches" might be expected, there was something "systematic" about the problem.
The Electoral Commission suggested that some people might have "forgotten" where they were registered to vote. The rules were also relaxed so that people could vote with their registration receipts, even if their names were not on the list.
Dr Solmon Zwana of the ZESN - an alliance of NGOs which oversaw 7000 observers across the country - said they were "really concerned" that the numbers of people being turned away might damage the process. He added that abnormally high numbers of people were requesting "special assistance" from another person when they cast their votes. "There's a possibility that some people are voting under duress," said Zwana.
The problems appeared to be concentrated in the cities, notably Harare, which are strongholds of support for Tsvangirai.
The 89-year-old Mugabe is standing for office for the seventh and perhaps final time. His rival, Tsvangirai, hopes the election will usher in a new era for the troubled southern African nation.
Organisers reported high turnout across the country for the first election since the violent polls of 2008, that led to an uneasy power-sharing Government between the two men. There were no reports of widespread violence this time round, despite the fierce rhetoric of the campaign.
At many polling places voters started queueing before sunrise in the winter cold, hours before booths opened. The queues continued well into the evening, with many marking their ballots by candlelight.
Organisers said voters still waiting at closing time would get a chance to vote.
Q&A: Battle for power
Q: Why does this contest matter?
The election ends the coalition Government between President Robert Mugabe's Zanu-PF party and the two wings of the Movement for Democratic Change (MDC), which came to power after disputed and violent polls five years ago.
Q: How does it work?
Zimbabwe has 6.4 million registered voters. People voted yesterday for a new president, a new parliament of 210 MPs, and more than 9000 local councillors. The count started after polls closed yesterday morning and the Electoral Commission has promised to announce all results by Tuesday. A presidential candidate requires 50 per cent plus one vote to win outright. If no candidate gets that, a second round run-off will be held.
Q: What has happened before?
In 2008, Morgan Tsvangirai won the first round, with just under 50 per cent. A second round followed and Mugabe's regime began a wave of violence that claimed at least 200 lives. Five days before the final round, Tsvangirai pulled out, saying the bloodshed made it impossible for him to campaign. Mugabe was declared the winner, but, under international pressure, agreed to share power with Tsvangirai.
Q: Who are the candidates this time?
There are five presidential candidates, but Mugabe and Tsvangirai are the front-runners. The other notable contender is Welshman Ncube, the Industry Minister and leader of a rival wing of the MDC. He will split the opposition, increasing the chances that Mugabe will win outright.
Q: What about vote rigging?
Election experts say that the voters' roll of 6.4 million names is inflated by as many as 2 million "ghosts". There have also been claims that officials at polling stations in MDC strongholds have been told to delay the process. As in past years, rural chiefs have been given incentives to persuade their people to vote for Mugabe.