But there are huge gaps on issues of borders, future of Jerusalem, and weather Palestinian refugees will be allowed to return.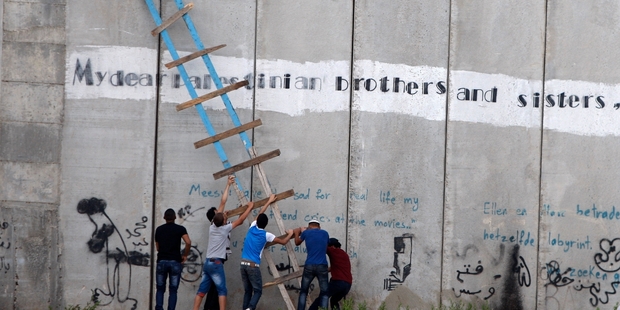 Israel has said it will release "heavyweight" Palestinian prisoners as part of an agreement to enter preliminary talks in Washington with the aim of an eventual resumption of long-stalled peace negotiations.
Hours after the US Secretary of State, John Kerry, announced that the two sides to the conflict had agreed to discuss terms for negotiations, Yuval Steinitz, Israel's Minister for International Relations, said a prisoner release would be carried out in stages.
"I don't want to give numbers, but there will be heavyweight prisoners who have been in jail for tens of years," he told Israel Radio. The release of long-serving prisoners has been a key Palestinian demand.
However, Steinitz said Israel would baulk at agreeing on the pre-1967 border as the parameter for territorial negotiations. "There is no chance we will agree to enter any negotiations that begin with defining territorial borders or concessions by Israel, nor a [settlement] construction freeze," he said.
Kerry's announcement of progress in his mission to revive the Middle East peace process, delivered in Amman on Saturday after four months of intensive diplomacy, met with mixed interpretations.
Israel's Justice Minister Tzipi Livni, who will represent the Israeli side in the preliminary talks and is a long-term advocate of negotiations, hailed the move as a significant breakthrough.
"These were long months of scepticism and cynicism," she said. "But now, four years of diplomatic stagnation are about to end."
The talks would be "complex and not easy", she added, but this is "the right thing for our future, our security, our economy and values".
But a senior Palestinian official said that President Mahmoud Abbas had signed up "not to a resumption of negotiations but only talks about talks".
The Palestinians would demand a written statement that the 1967 border would be the basis for territorial negotiations, he said, but the expectation was that Israel would refuse.
The issue of the 1967 border as the parameter for negotiations has become a key sticking point. The Palestinians want all the land occupied by Israel over the past 46 years for their state, but Israel wants to keep its major settlements in the West Bank and East Jerusalem on its side of a future border.
On Friday, a report that Israel had agreed to the 1967 border as a basis for talks was denied by the Prime Minister's office.
According to Daniel Levy of the European Council for Foreign Relations, Kerry may have missed a crucial opportunity to test Israeli Prime Minister Benjamin Netanyahu's frequently stated willingness to re-enter talks by insisting that the "entry ticket is the 1967 border plus agreed land swaps".
However, Levy added, Kerry deserved credit for the "not insignificant" achievement of getting agreement for exploratory talks. "The challenge is what happens next. I don't think Kerry has much in his pocket. Not being cynical does not automatically translate into being optimistic as to where these talks can lead," he said.
Kerry's carefully worded statement acknowledged difficulties and challenges ahead. "No one believes that the longstanding differences between the parties can be resolved overnight or just wiped away," he said. But both sides had decided that "the difficult road ahead and the daunting challenges that we face are worth tackling".
As well as huge gaps on the core issues - borders, the future of Jerusalem which both sides want as their capital, and whether Palestinian refugees will be allowed to return to their homeland - there is deep mistrust after decades of wearying and fruitless negotiations.
The designated negotiators for each side are old hands, which could help to short-cut some discussions but may also make fresh, radical thinking unlikely. Saeb Erekat, for the Palestinians, has been involved in negotiations for more than 20 years; Livni, a lonely advocate for the two-state solution in the current Israeli Government, is also a veteran of past talks.
Levy predicted close US involvement in the exploratory sessions. "Kerry is not about to drop the ball," he said. And, he added, a phone call from President Barack Obama to Netanyahu on Friday to urge engagement will have reminded the Israeli leader that "this is not a John Kerry solo show".
Both sides may have been encouraged to sign up for initial talks by European Union guidelines banning funding or grants to Israeli bodies with links to settlements in the West Bank and East Jerusalem. The Palestinians will have been bolstered by the move; the Israelis alarmed at the prospect of international sanctions. Notably, the US did not criticise the European move.
The most recent direct talks, held over three weeks in September 2010, lasted for just 16 hours before breaking down amid acrimony and blame.
There are indications that both sides are already preparing to point the finger at the other should any future discussions hit the buffers.
"It's the first direct talks for several years, and that's significant. But it shouldn't be overblown," Natan Sachs of the Saban Centre for Middle East Policy at the Brookings Institute, told the Jerusalem Post. "There's a sense the parties are entering the talks with an eye on the blame game."
Hamas - the Islamist party which rules the Gaza Strip - said Abbas had no legitimate right to negotiate on behalf of the Palestinian people.
- Observer
Secretary of State's move to end impasse praised
US Secretary of State John Kerry's announcement of a breakthrough followed four months of shuttle diplomacy during which he paid six visits to Israel and the West Bank. Barak Ravid, of Israel's Haaretz, wrote that Kerry deserved praise, saying that his patience and determination exceeded that of his predecessor, Hillary Clinton. Ravid reported that Kerry held 20 phone calls with Israeli Prime Minister Benjamin Netanyahu during the four days that led to the resumption of direct talks. "The US Secretary of State managed to end the impasse of more than three years in Israeli-Palestinian diplomacy with the power of his will," Ravid wrote. "Kerry became neither shocked nor exasperated by the intransigence, excuses and manipulations of Netanyahu and [Palestinian President Mahmoud] Abbas. He would not release his foot from the throttle and in the end he tired out both Netanyahu and Abbas."
- Telegraph Group Ltd