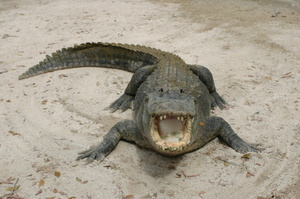 An alligator has been stolen from a NSW reptile centre during a late night robbery.
The alligator is among 23 reptiles - including lizards and dragons - taken from the Australian Reptile Park on the Central Coast on Sunday night.
Police were called to the park in Somersby at about 11pm (AEST) following reports of a break and enter.
There are concerns for the reptiles as some are sensitive and require high maintenance.
Police say without proper care there is a significant risk that the creatures won't survive.
- AAP