Egypt's President Mohammed Morsi's misjudgment of the military cost him their support at a critical time.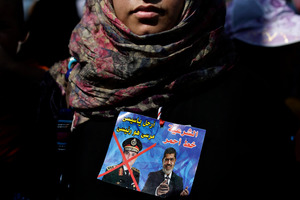 Hand-picked by the country's leader himself, they were the generals that President Mohammed Morsi thought he could rely on. When they turned against him, the betrayal was all the harsher.
"It was me who made you a minister, and I can fire you if I want," Morsi said last week to General Abdulfattah al-Sisi, Egypt's defence chief, according to one account of their final meeting.
"You can't fire me because you no longer have any legitimacy," the general replied.
He then ended the exchange tersely. "You are now under arrest."
So it was that General Sisi, a man pious enough to force denials that he was in fact a member of the Muslim Brotherhood, finally wielded the knife that brought its rule to an end.
To one faction of the huge crowds that gathered, it was the welcome demise of a government that failed to be inclusive, and that threatened to take Egypt on a path not to democracy, but an authoritarian, Islamic state.
For others, it was an insult to democracy: a government that had won fair and square in last year's elections toppled simply because the army decided to back its opponents.
True, those opponents had turned out in huge numbers to vent their anger in recent days, but they were still a minority compared to the more than 50 per cent of Egyptian voters who had endorsed Morsi at the ballot box in 2012.
So who were the generals who turned against Morsi, and why exactly did they choose to bring him down?
Sisi is considered smart, thoughtful and, by the gerontocratic standards of Egypt's political and military elite, relatively youthful at 58.
The army's younger breed are supposed to be independent-minded, disliking the corruption of the Mubarak-era elite and not particularly comfortable with Egypt's long-standing dependence on American military aid.
The Sunday Telegraph has learned that since Morsi's removal from office, the generals have been touring Western embassies, begging "understanding" for their step into politics, and insisting they are merely smoothing the path to free and fair elections.
They are particularly keen to win over the British, regarding Whitehall as influential in both the European Union and even with Washington.
They fear that US President Barack Obama, so reluctant to involve himself in the Middle East, is "wobbly" on the military alliance and dubious about America's aid.
The money is less important than the veneer of "legitimacy" British, European and American backing can bring after what critics say was a military coup. Obama has held off from calling what happened a "coup".
Britain, which has long ties with some Brotherhood leaders and was not unhappy when Morsi won the presidency, appears to have concluded that, irrespective of his electoral mandate, he had made too many mistakes to carry on.
On the streets, too, the old order has returned. Yesterday they were notably absent as Morsi supporters and opponents fought for control of the northern entrances to Tahrir Square, hurling stones and fireworks and even shooting at each other. Battles raged similarly in cities across the country, with 12 dying in Alexandria, six in the Sinai and more elsewhere. For the first time, Islamists, outmanoeuvred politically, were clearly on the attack.
It is hard to time precisely Sisi's decision that the Brotherhood had to go. But there were a number of key incidents in the past month when Morsi, who had a tin ear to the political opposition's priorities, also showed himself ignorant of army concerns.
The first was his appointment of a slew of Islamist governors to Egypt's provinces, in particular his decision to send Adel el-Khayat, a member of the Gamaa al-Islamiya, to Luxor, the spiritual home of the Egyptian tourist industry.
The appointment was promoted as an act of reconciliation. But to Egypt's tourism industry it was a slap in the face.
Last month, Morsi and Sisi sat together at a rally to support the Syrian opposition, at which Morsi voiced support for Egyptians volunteering to fight there, and even suggested he would put the army behind the cause. It is hard to know which statement would have alarmed Sisi more: committing his army to a potential foreign war without consulting him first, or encouraging Egyptian men to become battle-hardened jihadists who might well return to attack Egypt itself.
Then, as Egyptians took to the streets by the millions, the full extent of the popular disillusionment with Morsi's rule became clear. Sisi hired a leading film director, Khaled Yussef, to go up in an army helicopter to film the protests from above. When Sisi met Morsi the next day, the President was still dismissive of the protests. But Sisi showed Morsi the video of the anti-government throngs and leaked it to anti-Morsi television stations. The protesters' superiority in numbers was evident.
Exact details of the final terse exchanges between Morsi and Sisi may only ever appear in the history books, but already, glimmerings have emerged in the Egyptian media of how General Sisi delivered the coup de grace. "What is your legitimacy?" he asked. "This is a coup and America will not let you do it," Morsi replied.
That, on hindsight, appears to have been his final misjudgment.
Key developments
* The office of interim President Adly Mansour said pro-reform leader Mohamed ElBaradei had been named as interim Prime Minister but later backtracked on the decision, saying consultations were continuing. A politician close to ElBaradei said an ultraconservative Islamist party the new administration wants to co-operate with had objected to the appointment.
* Former British Prime Minister Tony Blair says the Egyptian army had no alternative but to oust President Mohammed Morsi from power, given the strength of opposition on the streets. The military were confronted, Blair told the Observer, with the simple choice of intervening or allowing chaos.
* Morsi's intelligence chief and the presidential palace's chief of staff have been replaced.
* Prosecutors ordered four detained stalwarts of Morsi's Muslim Brotherhood held for 15 days.
* Supporters and opponents of Morsi sought to regroup yesterday after fierce clashes that turned downtown Cairo into a battlefield. Clashes were also fierce in Alexandria, where thousands fought with automatic rifles, firebombs and clubs.
* Saturday's violence left 36 dead, taking to at least 75 the number of people killed since the unrest began on June 30.
- Observer, AP