As India nears once-in-a-generation election, Modi's failures to elevate tribes may prove stumbling block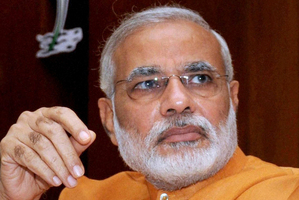 The roads in Gujarat run straight and true, and most places are blessed with a covetously unbroken supply of electricity.
But when Puni's children fell ill with typical childhood illnesses, the state failed her. Three of them died before reaching the age of 3.
"If there was a hospital nearby it would be very helpful," says Puni, a tribal, or adivasi, woman in her 40s who uses only one name. She makes a subsistence living growing wheat and maize in a village 32km from the town of Godhra. "By the time you have to arrange a vehicle to take you, it allows the person to be lost."
With India no more than 11 months away from perhaps the most significant election in a generation, the plight of Puni and other tribal people in Gujarat threatens to test the man many believe is set to become the country's 14th Prime Minister.
Supporters of Narendra Modi, the thrice-elected Chief Minister of Gujarat, have pushed his record in the western state as one of the key reasons he should be elevated to the national stage.
In the past 12 years, they say, Modi has overseen constant economic growth and created a business-friendly environment that he could recreate in the rest of India.
But increasingly, questions are being asked about the economic record of the conservative, Hindu nationalist. Perhaps the most telling criticism came earlier this month during a meeting of India's planning commission, a state body, when Gujarat was criticised for failing to do more to help tribal people and other vulnerable communities.
The commission said the rate at which poverty was being reduced among such groups was among the slowest in the country.
On three key social indicators used to measure the so-called human development index, it is ranked 11th of India's 23 states.
Located on the west coast and with a population of 60 million, Gujarat has for centuries been a prosperous mercantile community. Government data shows that between 2005 and 2011, the growth rate in Gujarat averaged an impressive 10.25 per cent. But the average national growth during the same period was 8.64 per cent, and some states in India did even better.
The development had not been equal, said Ghanshyam Shah, a retired professor of economics at Jawaharlal Nehru University.
"In rural Gujarat, 16 per cent of the population is tribal and in all human development areas - health and education, etc - they are behind the national average."
As it is, Modi's focus has not been on people such as Puni, but rather the country's aspirational urban middle-class, a constituency increasingly frustrated by the corruption scandals that have rocked the two terms of Prime Minister Manmohan Singh, of the Congress Party.
He has also assiduously courted the country's business elite, luring industry to set up shop in Gujarat and providing land and infrastructure at bargain prices.
Many in India still accuse Modi over the 2002 massacre of up to 2000 people - almost all of them Muslim - in a wave of violence that swept the state. Several of Modi's ministers have been convicted of orchestrating the clashes, and while he has never been charged, many believe that what he did was insufficient to stop the slaughter. Modi has always denied the claims.
Though Modi's Hindu nationalist stance has won him popularity in Gujarat, it is not likely to translate well in a national election, where moderate Hindus, Muslims, and urban middle classes are more concerned with employment, development and tackling corruption, and all hold significant sway. Gujarat's economic performance is therefore seen as his key asset.
Despite his critics, Modi continues to win over supporters from the most unlikely quarters. Zafar Sareshwala, a Muslim businessman who runs a luxury car dealership in Ahmedabad, initially opposed Modi. But having returned to Gujarat, he had seen differences that he attributes to the Chief Minister - investment in infrastructure and education, and putting a lid on anti-Muslim discrimination.
"Modi will evolve. He is not a foolish person," he said. "He had the courage to move his ideas."


Narendra Modi
Born in 1950 in the town of Vadnagar in northern Gujarat into a family of grocers, Modi spent his teenage years manning a tea stall with his brother near a bus station. Having found his political feet with the right-wing Hindu nationalist group Rashtriya Swayamsevak Sangh (RSS), he quickly rose through the ranks and became a key strategist for the RSS-linked Bharatiya Janata Party (BJP). He was elected Gujarat's Chief Minister in 2001, but anti-Muslim violence in the state the following year left up to 2000 people dead and saw Modi shunned by many countries. Despite becoming one of India's most divisive politicians, more recently, international relations towards him have thawed as Gujarat's economic prowess grew.
- Independent