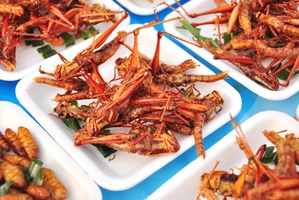 For every human on Earth, there are 40 tonnes of insects. They have a higher food conversion rate than even our fastest-growing livestock.
Two billion people around the world, primarily in Africa and southeast Asia, eat insects - locusts, grasshoppers, spiders, wasps, ants - on a regular basis. Now, with food scarcity a growing threat, efforts are being made to normalise the concept of entomophagy, or the consumption of insects, for the other five billion.
Last year, the UN's Food and Agriculture Organisation (FAO) published a list of more than 1900 edible species of insects; the European Union, meanwhile, offered its member states US$3 million to research the use of insects in cooking.
Why? Because insects, compared with livestock and fish, are a much more sustainable food source. They are available in abundance: For every human on Earth, there are 40 tonnes of insects. They have a higher food conversion rate than even our fastest-growing livestock - meaning they need to consume less to produce the same amount of meat - and they emit fewer greenhouse gases.
As a fast-food option, which is how people treat them in countries such as Thailand, insects are greatly preferable to the water-guzzling, rainforest-destroying, methane-spewing beefburger.
They are nutritious too: rich in protein, low in fat and cholesterol, high in calcium and iron.
That leaves the issue of palatability. Insects are generally viewed with disgust in the West, but attitudes are beginning to change.
Thanks to adventurous restaurants - Copenhagen's Noma has served up ants and fermented grasshoppers - we are coming to terms with the notion that insects might actually be nice to eat.

Edible packaging
Our current food system is monumentally wasteful. Last January, a report found that almost half of the world's food is thrown away each year.
The fight against waste has thrown up some intriguing solutions.
For Harvard bioengineer David Edwards, the answer to the packaging problem is simple: just eat it. Last year, Edwards launched WikiCells, a company that makes edible packaging for fruit juices, coffee, ice cream and other products. Mimicking the design of a piece of fruit, the packaging consists of a soft skin "entirely comprised of natural food particles held together by nutritive ions" encased in a protective outer layer that is edible or, at least, biodegradable.
Not only are the membranes more environmentally friendly than plastic, they are designed to taste good, too. Other packaging innovations promise to lengthen the shelf life of perishables, which would mean a reduction in food and drink waste. Pepceuticals, a company based in Leicester, is developing an antimicrobial film that it claims "should significantly prevent the deterioration of ... fresh meat and save waste".
Food replacement and eco-food innovation
One of the hottest trends attracting investors in Silicon Valley has a lot to do with our future eating habits. A growing number of young entrepreneurs, driven by ecological as well as profit motives, are seeking to replace resource-hungry foods such as meat with synthetic and plant-based alternatives - and the likes of Twitter founders Evan Williams and Biz Stone are bankrolling them.
Their motives are well-founded. With the global population expected to reach 9 billion by 2050, and as western eating habits spread to countries such as China and India, more efficient and environmentally friendly ways are needed to produce protein-rich foods. Imitation meat is not a new concept, but Bay Area innovators, such as Beyond Meat, are making a chicken substitute good enough, they claim, to compete with the real thing.
Meanwhile, Hampton Creek Foods, founded by Josh Tetrick, 32, is working on a plant-based replacement for egg yolks to go in muffins, mayonnaise and other sauces.
Enhanced rice
Thirty years ago, scientists announced the creation of the world's first genetically modified plant. The new technology, it was hoped, would increase crop yields worldwide and ease global malnutrition. Since then, the fortunes of GM food have been decidedly mixed. Its uptake has been limited to just a few countries and many of its promises - including, more recently, the hope that GM crops would help reduce climate change emissions - have yet to be realised.
However, despite continuing resistance to GM food among environmentalists and those wary of the corporations that control it, breakthroughs are expected.
Next year, it is hoped that golden rice - normal rice modified to produce beta-carotene, which the body converts into vitamin A - will be planted by farmers in the Philippines. If successful, golden rice will help counter blindness and other diseases in children in the developing world.
- Observer