Anti-capitalists gathering to make their point in London ahead of G8 meeting.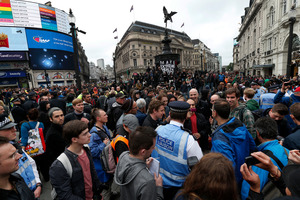 Police arrested 57 people as the first wave of G8 Summit protests hit London yesterday, with police clearing the central city HQ of the protest movement before its planned march had begun.
With nearly 1200 police officers mobilised across the city, hundreds of officers swooped on a squat in Soho, tearing down the doors and removing about 40 people who had been occupying it.
The Metropolitan Police also trailed a protest through the West End on the first day of a week of protests against next week's G8 meeting in Northern Ireland.
Anti-capitalist demonstrators had identified around 100 targets across the West End, including banks, hedge funds and even nightclubs, which they said were symbols of wealth.
Officers searched both the Soho building and the squatters they found there, most of whom were subsequently allowed to go free. Police said they made the pre-emptive strike because they feared that the protesters had weapons and were planning to bring serious disorder to central London.
German, French, Dutch, Belgian and Spanish anti-capitalists were among those evicted.
But anti-G8 demonstrators said they had squatted Section House, a former police building on Beak St, to protest against the number of empty properties in London. One told the Independent he saw a police officer punch a protester in the face.
Riot police formed cordons to seal off the building from the surrounding streets. They brought tools to cut down the doors.
Police said that at least one of the arrests was made on suspicion of possession of an offensive weapon and at least one more was on suspicion of criminal damage.
Police said another person was arrested over an alleged assault on a police officer. But protesters claimed that police assaulted them.
One squatter said: "There were people on the balcony trying to communicate with the police, asking for time to make a decision because they were worried about homelessness ... Two minutes later, they came with angle grinders. I was just behind the guy who got hit. They grabbed him by the scruff of his neck and punched him square in his face and split his lip open."
As a police helicopter whirred above, another group of 200 to 300 anti-capitalists marched through the West End, while a large police escort trailed them.
The Ritz had pulled down its shutters and officers were standing outside Fortnum & Mason, which was the target of a protest in 2011.
The leaders of the world's eight wealthiest countries are due to meet at the Lough Erne resort, in County Fermanagh, for the conference on the 17th and 18th. Police protection of Belfast sites has been tightened.
- Independent, Telegraph Group Ltd