After playing the silent, dutiful wife during a bleak 30-year marriage, Russia's first lady has had enough.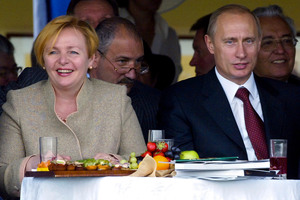 Lyudmila Putin once described her husband as a vampire. He suggested that anyone who could put up with her for three weeks deserved a national monument. What could go wrong for Russia's first couple?
While last week's announcement that they are to divorce had the surprise quotient of a snowfall in Red Square, many Russians were intrigued by its timing.
The Putins have scowled and borne it for the best part of 30 years, gamely adhering to Tolstoy's maxim that what counts in a marriage "is not how compatible you are, but how you deal with the incompatibility", and even managing to make the occasional joint appearance.
As they emerged from the State Ballet's performance of La Esmeralda the pair were approached by a TV reporter from the state broadcasting network who asked whether it was true that they had separated.
"That's right," the 60-year-old President replied perkily, while Madame Putin, appearing faintly dazed, added: "Our marriage is over due to the fact that we hardly see each other."
The episode was so clearly staged that it has merely fed the sense that something else is going on. "This is absolutely unprecedented," said Olga Kryshtanovskaya, a commentator on Russia's elite. "Over the past 200 years, no Russian leader has lifted the veil on his private life."
The prevailing theory is that both Putins, particularly Lyudmila, a 55-year-old former airline hostess, thought it was time to clear things up. The gossip flying around Moscow dinner tables had reached an embarrassing pitch, with stories of Lyudmila living in an underground nunnery on the Estonian border, and her husband supposedly involved with Alina Kabaeva, a 30-year-old, half-Tatar gymnast, said to be possessed of "incredible flexibility".
Not that Lyudmila hasn't bent in every direction to accommodate her difficult and despotic husband. She was born in Kaliningrad, a semi-forgotten Russian enclave on the Baltic coast, and showed an early gift for languages, which she first put to use as a stewardess on the infamously inhospitable state airline Aeroflot. She supposedly left after being investigated for illegally selling black-market sandwiches to the airline's famished passengers and, by the early-1980s, was taking a Spanish course at Leningrad University. There she met Vladimir, a rising young KGB goon whose job was to monitor foreign visitors and consular officials in the city. Their fateful first encounter happened, improbably, at a comedy show, starring Arkady Raikin, a celebrated Russian stand-up, whose speciality was poking fun at the Communist Party.
The farmer's daughter and the policeman's son married in 1983 and soon afterwards were posted to the KGB station in Dresden in East Germany. This seems to have been the moment when Lyudmila first questioned whether she had made the right choice of husband. In the only known biography of her, by journalist Oleg Blotsky, Lyudmila fumes that Vladimir thought a wife "should know her place and do all the housework herself".
Seven months pregnant with the couple's second daughter, Ekaterina, she was expected to lug all the shopping and supplies up several flights of stairs, to the couple's dingy tower block apartment.
He wasn't entirely without good points. According to Irene Pietsch, a German friend of Lyudmila, who has written an account of their conversations, his wife listed them as: "He doesn't drink or beat me up." She nevertheless described him as "a vampire who has sucked the juices out of me". Other acquaintances tended to portray them as simply too different in nature to get along.
With Putin's rise to power, the strains in the relationship became ever more obvious.
It was clear that the pseudo-personality cult Putin was building around himself - strutting bare-chested and heavily armed around the grounds of his dacha, skiing down volcanoes and squaring up to polar bears - afforded little room to his wife. As well as Kabaeva, he was linked with photographer Yana Lapikova, and spy-turned-lingerie-model Anna Chapman. The rumours suggest that a new match will soon be announced, and even that a baby-Putin is on the way.
If life has been difficult for the President's wife, it is unlikely to be much easier as his ex. Tatyana Ogorodnikova, author of a bestselling novel, A Marriage Contract, about a group of Russian women abandoned by their powerful husbands, says the perils include poverty, boredom, and loss of freedom. "Very often these women have been treated as baubles. Their husbands effectively owned them, and used them as stage props for their own interests. They were not allowed to have any lives of their own, and then they are dumped in favour of younger, more beautiful or interesting replacements, given miserly divorce settlements, and left to get on with it."
Lyudmila's appearance at the ballet last week is almost certain to be the last she makes in public. If there's one last thing the ill-starred couple can agree on, it is that there's only room for one Putin on the big stage.