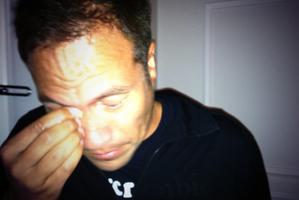 Television weatherman Tamati Coffey's round the world trip took an unexpected bad turn when he was tear-gassed during a violent street riot in Turkey.
Police in Istanbul used tear gas and water cannons to disperse crowds protesting against a government-backed research project on Friday.
More than 60 people were arrested as violence erupted in the city.
Former TVNZ Breakfast host Coffey, who is on a world trip with partner Tim Smith, yesterday tweeted a picture of himself from the trouble zone. He looked distressed and appeared to be wiping tear gas from his eyes.
"I will remember today forever," Coffey posted. "Riots, gas masks, pepper sprays, water cannons, goggles and police. Wow."
He added: "You'd hope you'd never get this close to see this ... This man is being tear-gassed. It hurts. I just found out ... But hey, still alive."
A few hours earlier, Coffey tweeted he suspected trouble was brewing.
"What a time! A local just told me his professor just texted him saying he thinks the Turkish uprising just started."
Another travelling Kiwi who saw the riots was John Ward Knox, son of veteran rock musician Chris Knox.
On a Facebook travelogue, he said he had joined the protest "in solidarity for the right to expression and particularly in light of the recent threats to our rights to protest in New Zealand".
He had been affected by tear gas and had been close to the rioting.