* Are you a Kiwi in Oklahoma? Contact the Herald here.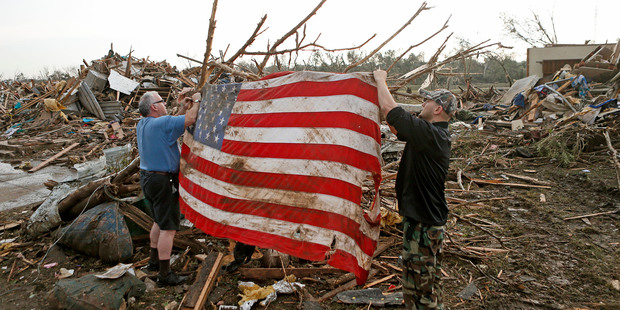 A monstrous tornado at least 800 metres wide roared through Oklahoma City suburbs , flattening entire neighborhoods and destroying an elementary school with a direct blow as children and teachers huddled against winds up to 320 kph.
At least 51 people were killed, including at least 20 children, and officials said the death toll was expected to rise, with some sources reporting that as many as 40 more people may be dead.
The ferocious storm ripped through the suburb of Moore in a Midwest region of the US known as Tornado Alley.
The storm laid waste to scores of buildings in Moore, a community of 41,000 people about 16 kilometres south of Oklahoma City. Block after block lay in ruins. Homes were crushed into piles of broken wood.
Cars and trucks were left crumpled on the roadside. Rescuers launched a desperate rescue effort at the elementary school, pulling children from heaps of debris and carrying them to a triage center.
The National Weather Service estimated that the tornado reached up to a half-mile wide and was an EF-4 on the enhanced five-point Fujita scale, the second most powerful type of twister.
More than 120 people were being treated at hospitals, including about 50 children. And search-and-rescue efforts were to continue throughout the night.
Amy Elliott, spokeswoman for the Oklahoma Medical Examiner's Office, told The Associated Press early Tuesday that officials could see as many as 40 more fatalities from the tornado in addition to the 51 already confirmed dead. She said at least 20 children were among the confirmed dead.
Live stream: Oklahoma tornadoes
In video of the storm, the dark funnel cloud could be seen marching slowly across the green landscape. As it churned through the community, the twister scattered shards of wood, awnings and glass all over the streets.
Oklahoma Gov. Mary Fallin deployed National Guard troops to assist with rescue operations and activated extra highway patrol officers.
Fallin also spoke with President Barack Obama, who declared a major disaster and ordered federal aid to supplement state and local recovery efforts.
"Hearts are broken" for parents looking for their children, Fallin told a news conference.
Photos: Tornadoes tear through Oklahoma states
At Plaza Towers Elementary School, the storm tore off the roof, knocked down walls and turned the playground into a mass of twisted plastic and metal.
Children from the school were among the dead, but several students were pulled alive from the rubble. Rescue workers passed the survivors down a human chain to the triage center in the parking lot.
James Rushing, who lives across the street from the school, heard reports of the approaching twister and ran to the school, where his 5-year-old foster son, Aiden, attends classes. Rushing believed he would be safer there.
"About two minutes after I got there, the school started coming apart," he said.
The students were sent into the restroom.
A man with a megaphone stood near a Catholic church Monday evening and called out the names of surviving children. Parents waited nearby, hoping to hear their sons' and daughters' names.
Don Denton hadn't heard from his two sons since the tornado hit the town, but the man who has endured six back surgeries and walks with a severe limp said he walked about three kilometres as he searched for them.
As reports of the storm came in, Denton's 16-year-old texted him, telling him to call.
"I was trying to call him, and I couldn't get through," Denton said.
Eventually, Denton said, his sons spotted him in the crowd. They were fine, but upset to hear that their grandparents' home was destroyed.
As dusk began to fall, heavy equipment was rolled up to the school, and emergency workers wearing yellow crawled among the ruins, searching for survivors.
Because the ground was muddy, bulldozers and front-end loaders were getting stuck. Crews used jackhammers and sledgehammers to tear away concrete, and chunks were being thrown to the side as the workers dug.
Many land lines to stricken areas were down, and cellphone networks were congested. The storm was so massive that it will take time to establish communications between rescuers and state officials, the governor said.
Tiffany Thronesberry said she heard from her mother, Barbara Jarrell, shortly after the tornado struck.
"I got a phone call from her screaming, 'Help! Help! I can't breathe. My house is on top of me!"' Thronesberry said.
Thronesberry hurried to her mother's house, where first responders had already pulled her out. Her mother was hospitalized for treatment of cuts and bruises.
The tornado also destroyed the city hospital and numerous businesses. Moore Mayor Glenn Lewis watched it pass through from his jewelry shop.
"All of my employees were in the vault," Lewis said.
Lewis, who was also the mayor of Moore when the strongest tornado on record whipped the city in 1999, said the most recent storm won't deter the community from rebuilding.
Monday's storm in the Oklahoma City suburbs left more than four dozen people dead. Lewis said this year's twister was bigger than one that hit in 1999, though its winds were not as strong. Lewis said the cleanup has already started and that city workers were already at work printing new street signs to replace those that blew away.
Chris Calvert saw the menacing tornado from about 1.6 kilometres away.
"I was close enough to hear it," he said. "It was just a low roar, and you could see the debris, like pieces of shingles and insulation and stuff like that, rotating around it."
Even though his subdivision is a mile from the tornado's path, it was still covered with debris. He found a picture of a small girl on Santa Claus' lap in his yard.
A map provided by the National Weather Service showed that the storm began west of Newcastle and crossed the Canadian River into Oklahoma City's rural far southwestern side about 3 p.m. When it reached Moore, the twister cut a path through the center of town before lifting back into the sky at Lake Stanley Draper.
Oklahoma City Police Capt. Dexter Nelson said downed power lines and open gas lines posed a risk in the aftermath of the system.
Monday's powerful tornado loosely followed the path of a killer twister that slammed Moore in May 1999. That storm produced the highest winds ever recorded near the Earth's surface - 486 kph.
Kelsey Angle, a weather service meteorologist in Kansas City, Missouri, said it's unusual for two such powerful tornadoes to track roughly the same path.
It was the fourth tornado to hit Moore since 1998. A twister also struck in 2003.
Oklahoma City has had more tornado strikes than any other city in the United States," the city government's website says.
Monday's devastation in Oklahoma came almost exactly two years after an enormous twister ripped through the city of Joplin, Missouri, killing 158 people and injuring hundreds more. On Monday, Joplin organized a team of about a dozen police and firefighters to assist in Moore.
Joplin City Manager Mark Rohr said his community remembers the assistance it received in 2011 and feels an obligation to lend a hand in Moore.
That May 22, 2011, tornado was the deadliest in the United States since modern tornado record keeping began in 1950, according to the National Oceanic and Atmospheric Administration. Before Joplin, the deadliest modern tornado was June 1953 in Flint, Michigan, when 116 people died.
Country music star Toby Keith, who grew up in Moore, saidhis hometown would persevere.
"Hometown got hit for the gazillionth time. Rise again Moore Oklahoma," Keith tweeted Monday evening.
THE 10 DEADLIEST US TORNADOES SINCE 1900:
• 695 deaths. March 18, 1925, in Missouri, Illinois and Indiana.
• 216 deaths. April 5, 1936, in Tupelo, Miss.
• 203 deaths. April 6, 1936, in Gainesville, Ga.
• 181 deaths. April 9, 1947, in Woodward, Okla.
• 158 deaths. May 22, 2011, in Joplin, Mo.
• 143 deaths. April 24, 1908, in Amite, La., and Purvis, Miss.
• 116 deaths. June 8, 1953, in Flint, Mich.
• 114 deaths. May 11, 1953 in Waco, Texas.
• 114 deaths. May 18, 1902 in Goliad, Texas.
• 103 deaths. March 23, 1913, in Omaha, Neb.
OKLAHOMA TORNADO TRACKED PATH OF 1999 TORNADO:
Today's powerful tornado in suburban Oklahoma City loosely followed the path of a killer twister that slammed the region in May 1999.
The National Weather Service estimated that the storm that struck Moore, Oklahoma, today had wind speeds of up to 320 kph, and was up to 1 kilometre wide. The 1999 storm had winds clocked at 480 kph, according to the weather service website, and it destroyed or damaged more than 8,000 homes, killing at least two people.
Kelsey Angle, a weather service meteorologist in Kansas City said it's unusual for two such powerful tornadoes to track roughly the same path. The 1999 twister was part of a two-day outbreak sweeping mostly across central Oklahoma - similar to the past two days.
The weather service has tentatively classified the Moore twister's wind speeds as an EF4 on a 5-point scale. Angle said less than 1 per cent of all tornadoes reach EF4 or EF5.
The thunderstorm developed in an area where warm moist air rose into cooler air. Winds in the area caused the storm to rotate, and that rotation promoted the development of a tornado. The most destructive and deadly tornadoes develop from rotating thunderstorms.
The biggest known tornado was nearly 4 kilometres wide at its peak width, which the weather service describes as near the maximum size for a tornado. It struck Hallam, Neb., in May 2004.
The deadliest tornado, which struck March 18, 1925, killed 695 people in Missouri, Illinois and Indiana.
Deaths from twisters have been declining in recent years because of improved forecasts and increased awareness by people living in tornado-prone areas, especially in smaller and rural communities.
TORNADOES IN NEW ZEALAND:
About 20 to 30 tornadoes happen in New Zealand each year, most frequently in the west and north. Tornadoes sometimes occur during thunderstorms, are sometimes preceded by a long, continuous roar or rumble, and generally last less than 15 minutes.
Damage paths are 10 to 20 metres wide and are usually less than five kilometres long.
• Develop a household emergency plan and prepare a portable getaway kit.
• When a warning is issued, alert others if possible.
• Take shelter in a basement or interior room without windows on the lowest floor, and get under sturdy furniture.
• Close windows, external and internal doors.
• Don't walk around outside, and avoid driving unless absolutely necessary.
• After the storm, listen to local radio stations for updates and advice from emergency management officials.
• Ask your council for advice on how to clean up debris safely.
Source: Ministry of Civil Defence and Emergency Management
- AP, AFP, AAP and APNZ