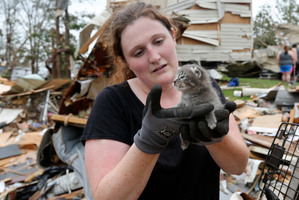 Pet rescuer Maeghan Hadley checks over a kitten pulled from under the rubble of a mobile home destroyed by Sunday's tornado in the Steelman Estates Mobile Home Park, near Shawnee, Oklahoma. Photo / AP
Oklahoma is being battered by a series of storms and tornadoes, one of which is thought to be 1.6-kilometres wide and flattened a school.
Two people were killed in or near the Steelman Estates Mobile Home Park , which is outside of Shawnee, a community about 35 miles southeast of Oklahoma City.
At least 39 people throughout Oklahoma were injured, according to the state's emergency management director, Albert Ashwood.
Watch a live stream of the Oklahoma storms below:
- nzherald.co.nz