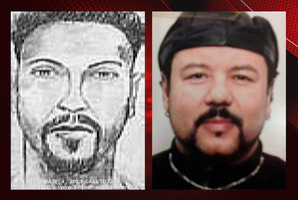 It has emerged that Ariel Castro resembles a sketch of a suspect that the FBI has held for more than seven years.
Agents searching the city for Georgina DeJesus released a drawing of a "person of interest" in her disappearance in November 2005.
The man in the sketch was "Latino, 25 to 35 years of age, 1.7m, 74kg to 83kg, with green eyes, a goatee and possibly a pencil-thin beard".
Castro, whose daughter Arlene was DeJesus' best friend, was 43 at the time. He is 1.7m, and weighs 81kg, according to court records. He has a goatee beard but has brown eyes.
"Ariel wasn't investigated at all," said Frank Caraballo, his former brother-in-law. "Why was Arlene's actual father out of the picture? He's the bus driver, he knows where all these kids go."
DeJesus was last seen by Arlene, the youngest daughter of Ariel Castro and Grimilda Figueroa, walking home from school on the afternoon of April 2, 2004.
While Castro was ignored by investigators, the then-boyfriend of his ex-wife was interrogated by the FBI over the disappearance.
Fernando Colon, 49, said he told the FBI that Castro was a more likely culprit, but was ignored.
Colon had been convicted of molesting two of Figueroa's daughters, in a case that he claims was driven by Castro, who testified against him.