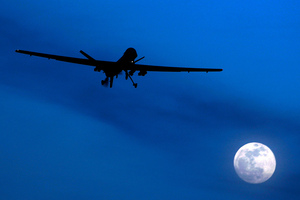 Last week, a missile fired from a United States drone slammed into a village in South Waziristan, in Pakistan's tribal territories, killing between four and six people and wounding at least two.
After a decade of attacks from the skies, death and terror are routinely visited on communities targeted in America's merciless drone wars.
In the US, their plight has been taken up by peace campaigners, who want to end this onslaught and relieve faraway communities living in daily fear of drones operated by the CIA and the Pentagon.
"When you monitor people day in, day out, and always have the sound of drones overhead, it creates tremendous anxiety," says Nick Mottern, a peace activist with the Network to Stop Drone Surveillance and Warfare (NSDSW). "Because when people hear the motors they know someone could very well be killed."
The death toll is not known. Details of British and American drone strikes in Afghanistan are classified.
Numbers are hard to come by in Yemen and Somalia.
The most comprehensive data, compiled by the Bureau of Investigative Journalism in London and updated daily, is from Pakistan. The bureau says that between 2545 and 3533 people, of whom 411 to 884 were civilians, have died in 368 drone strikes since 2004. The most recent strike, in South Waziristan in Pakistan's tribal areas, last Wednesday, killed between four and six people and injured two to seven.
An authoritative Stanford/New York University report, Living Under Drones, last year said the constant presence of US drones in places like Waziristan had led "to constant and severe fear, anxiety and stress".
The NSDSW's "April Days of Action" hopes to shift US opinion - a Gallup poll last month found 65 per cent supported drone strikes abroad, but only 25 per cent backed them at home - by picketing weapons factories and universities linked to the Obama Administration's drone war.
The protests will climax on Sunday with a demonstration outside New York state's Hancock Air Force Base, where pilots use computers to steer unmanned Reaper drones to Afghan targets.
Mottern believes many strikes have "broader geopolitical ends". He wants combat reports, intelligence and video of drone hits made public, so people can judge for themselves why others are blown apart by Hellfire missiles.
"Some attacks seem designed to assist certain Governments or groups the US wants to see in the ascendancy. My suspicion is the US is conducting attacks in Yemen against groups the Saudis view as antagonistic."
There is also unease in Washington about the CIA and Defence Department's escalating licence to kill. The Senate judiciary committee is holding hearings probing the "constitutional and counterterrorism implications of targeted killing".
The hearings follow the publication of leaked US intelligence files by the McClatchy news agency. The material covers drone strikes in Pakistan between 2006 and 2008 and between 2010 and 2011, and indicates the US targeted militants who apparently posed no direct threat to America.
"It confirms our own data," says Chris Woods of the bureau.
The organisation says most drone strikes are not against al-Qaeda, or others who present any imminent threat to the US homeland, but are directed at local insurgent groups.
"You can argue that this is a valid reason for strikes," says Woods. "But the stated premise, authorised by Congress in 2001, is that they are strikes against al-Qaeda and its associates.
"The US seems to have drifted away from this authorisation. The CIA has been very bold, saying al-Qaeda is effectively destroyed in Afghanistan and Pakistan. So who are they targeting?"
The leaks contradict claims made in June 2011 by John Brennan, then President Barack Obama's terrorism adviser, now CIA chief, that "there hasn't been a single collateral [civilian] death" in Pakistan in 10 months.
Drawing on field investigations, the bureau says at least 42 civilians were killed in Datta Khel, North Waziristan, by a "signature" strike on March 17, 2011. Such strikes are aimed at suspicious targets whose identities are unknown and have provoked growing unease in Washington.
An anonymous US official later said the missile killed a "large group of heavily armed men, some of whom were clearly connected to al-Qaeda, and all of whom acted in a manner consistent with AQ-linked militants".
But the bureau concluded the victims, including tribal elders and police, were attending a meeting to adjudicate a local mining dispute.
The drone attacks also underscore the shift within the CIA from spying to killing. This theme is explored in a book, The Way of the Knife: The CIA, a Secret Army, and a War at the Ends of the Earth, by New York Times national security reporter Mark Mazzetti.
His investigation into the shadowy nexus between US intelligence agencies and special forces finds drone attacks have become the sharp end of a new American warfare doctrine - assassination.
It is a world of quid pro quos and secret deals where ends justify the means. Thus, to get access for its drones to Pakistani airspace, the CIA killed Pashtun militant Nek Muhammad and several others, including two boys, with a Predator strike in South Waziristan in June 2004. Muhammad was not a US foe but the leader of a tribal revolt and an enemy of the Pakistani state.
Mazzetti writes that Pakistan was the "laboratory for the targeted killing operations that have come to define a new American way of fighting", blurring the distinction between soldiers and spies as traditional procedures are "short-circuited". It is a slippery slope that may augur fateful results.
While the US may insist using drones to kill specific militants is justifiable - although the UN says it is illegal under international law - the signature strikes, like the one at Datta Khel, risk "blowback", or unintended consequences. The most infamous example is when CIA support for anti-Soviet mujahideen in Afghanistan in the 1980s spawned Osama bin Laden.
The bureau has been able to identify only about 500 victims of drone strikes in Pakistan.
"We suspect the CIA doesn't know the identities of the majority of those killed in these signature strikes," says Woods. And that's the problem. If you don't know who you're killing how can you talk about the effectiveness, or not, of your campaign?"
Sending in the drones on an open-ended killing programme may be breeding enemies, a gnawing worry in US military and intelligence circles.
Despite talk of "surgical" drone strikes, signature attacks evoke the heavy-handed tactics used by the US in Vietnam, where carpet bombing strengthened the enemy's resolve.
"We're seeing that blowback," retired General James Cartwright, once the vice-chairman of the Joint Chiefs of Staff and an Obama security adviser, said last month.
"If you're trying to kill your way to a solution, no matter how precise you are, you're going to upset people even if they're not targeted."
Drone strikes
* 65 per cent Of Americans support drone strikes abroad, according to a Gallup poll last month
* 25 per cent Support drone strikes at home.