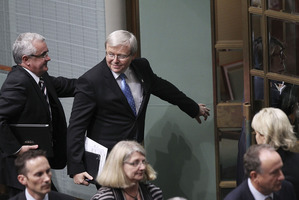 For Labor MPs, yesterday represented the worst possible scenario. More unedifying scenes of infighting, and no conclusive result. Like a bashful maiden, Kevin Rudd kept his suitors waiting until the clock was about to strike midnight - or rather, 4.30pm Canberra time - and then departed with his honour intact.
He was not prepared to break the promise he made last year - after failing to oust Julia Gillard in a leadership ballot - not to challenge her again unless the position was declared vacant, a saintly-looking Rudd told a frenzied media pack at Parliament House.
Translated from the Queensland, that meant his backers had done the maths and concluded he did not have enough support. And so a day of high drama - a day which the former party powerbroker Graham Richardson called "just about Labor's worst [in nearly 50 years]" - fizzled out like a damp sparkler.
The ballot became a non-ballot, and the movie in which the former prime minister had hoped to star - Rudd's Return, perhaps, or Groundhog Day Revisited - turned into Xena: Warrior Princess.
Gillard's popularity ratings may be through the floor, her party may have a snowflake's chance in hell of winning an election with her as leader, but she is nothing if not tough.
That was clear when she announced the ballot at question time, declaring: "We will fight and fight and fight." (Although she was referring to the Coalition, her real target was closer to home.) And it was clear when she swept out of the Labor caucus meeting room, tight-lipped and triumphant.
As Richardson told Sky TV: "She has now got sole rights, sole ownership of the massacre to come."
For Rudd, it may have been a case of once bitten, twice shy. Why risk losing a second time when you can, instead, take the moral high ground and wait for the numbers to stack up your way? So divided is the parliamentary party that no commentator seems willing to rule out yet another assault on Gillard, possibly in June.
For Labor MPs, yesterday represented the worst possible scenario. More unedifying scenes of infighting, and no conclusive result. All pain, no gain.
Rudd's colleagues seem unable to decide whether, in the great morality play of Australian politics, he represents Revenge or Salvation.
For Tony Abbott, yesterday was a free gift. He and his colleagues, already well ahead in the polls, needed to do nothing except stand back and watch Labor implode - and then make more-in-sadness-than-in-anger remarks about a government whose only skill appears to be tearing itself apart.
Six months out from the election, Abbott must be already choosing new wallpaper for The Lodge.
As for voters, they are surely scratching their heads and wondering when the Government - a government many of them detest - will get on with the business of running the country. You know, making decisions about stuff like education and health and the economy.
While the only immediate casualty was Simon Crean, sacked from the ministry following his brave attempt to lance the boil that has festered inside the Labor Party since Gillard knifed Rudd in June 2010, the post-mortem to yesterday's non-event is likely to be lengthy and painful.
And those MPs sitting on tiny majorities will be thinking long and hard about their job security.