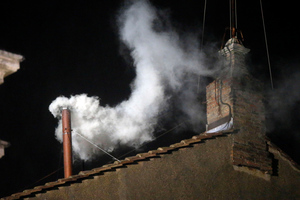 White smoke emerges from the chimney on the roof of the Sistine Chapel in St Peter's Square at the Vatican. Photo / AP
White smoke has billowed from a Sistine Chapel chimney to show that a new pope has been elected to replace the frail Benedict XVI as leader of the world's 1.2 billon Catholics.
Watch YouTube's live coverage using the video player above.
- nzherald.co.nz