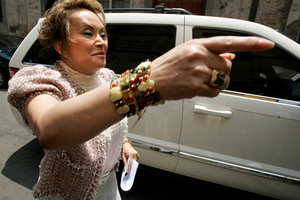 They call her "The Teacher".
Now Elba Esther Gordillo, the union boss routinely described as Mexico's most powerful woman, looks set to be taught a lesson herself after she was arrested for allegedly embezzling more than US$156 million ($188 million) from her organisation.
For more than two decades Gordillo, 68, has been the leader of the 1.5 million-strong National Union of Education Workers, Mexico's teachers' union and the largest labour group in Latin America. Wielding the power to deliver her members' votes as a bloc, she has exerted significant influence over governments.
The SNTE is thought to have a budget of tens of millions of dollars a year, and has long been plagued by rumours of corruption. Gordillo's monthly salary is around US$6000; the Mexican newspaper Reforma once asked how she could afford an outfit that included US$1200 shoes and a US$5500 purse.
Gordillo was arrested with three other people after disembarking from a private plane at Toluca Airport near Mexico City yesterday.
Mexico's Attorney General, Jess Murillo Karam, said 200 billion pesos ($19 billion) had been transferred from the SNTE to three private accounts in American and Swiss banks. Gordillo has allegedly bought two houses in California, US$17,000 worth of plastic surgery and spent nearly US$3 million in department stores.
Her legal team has yet to respond to the corruption allegations.
- Independent