2018 will mark end of ruling dynasty's grip on power as leader steps down, but not end of one-party system.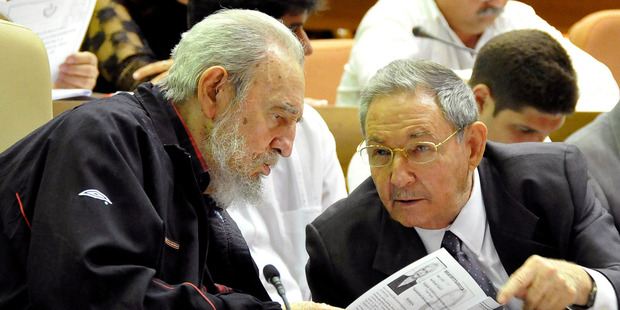 As they digested yesterday's solemn pledge from Raul Castro at the annual meeting of the National Assembly to make his new five-year term as President his last, the people of Cuba today pondered a future where - after all these decades of stubborn isolation and political repression - a Castro would no longer be in charge.
The pronouncement - "this will be my last term," Castro, 81, said firmly, with his elder brother and the former President, Fidel, looking on - was at once shocking and barely so. But at the very least it means that by 2018, Raul will relinquish power and the leadership of the island nation will for the first time pass to someone who was not part of the 1959 revolution that brought Soviet-style socialism to the island and expelled capitalism.
Since taking over from Fidel in 2008, the younger Castro has edged Cuba away from a Soviet economic model of centralised control. He has issued licences for small private enterprises, allowed for a limited property market, lifted deeply unpopular travel restrictions and given some autonomy to state enterprises.
But no one for now is mistaking these reforms for an abandonment of one-party control. "I was not chosen to be President to restore capitalism to Cuba. I was elected to defend, maintain and continue to perfect socialism, not destroy it."
That democracy remains beyond the horizon was evident in the anointing of a new number two who thus becomes the favourite to succeed Castro. He is 52-year-old Miguel Diaz-Canel Bermudez, an electrical engineer and former Minister of Higher Education.
When Fidel Castro fell ill with a near-fatal stomach ailment in 2006, Cuba was still largely in the abyss opened by the collapse of the Soviet Union. Raul promised reforms that were finally laid out in a multi-year plan adopted amid fanfare two years ago.
All the while, he has argued for retiring the first generation of leaders who were part of the revolution to make way for new blood. "Our greatest satisfaction is the tranquillity and serene confidence we feel as we deliver to the new generations the responsibility to continue building socialism," he said in his address.
Castro spoke of capping all political posts, including the presidency, to two five-year terms, and hinted at other reforms to the constitution far-reaching enough to warrant a national referendum.
"This is the start of a new era," insisted Roberto Delgado, a 68-year-old retiree from the pleasant Miramar neighbourhood of Havana that is home to foreign embassies. "It will undoubtedly be a complicated and difficult process, but something important [has] happened." In the Cuban exile community of south Florida, there was a more sceptical reaction. "It would have been big news if he resigned today and called for democratic elections," Alfredo Duran, a lawyer and moderate exile leader noted. "I wasn't worried about him being around after 2018."
For Washington, the changes hold great significance because the trade sanctions law governing the embargo that continues to define relations with the island nation states restrictions will remain in place as long as a Castro is in charge.
Attention on heir apparent
Miguel Diaz-Canel When the Cuban delegation arrived for the London Olympics last summer, no one paid very much attention to the mid-level government official with thick silver hair who was leading it.
Now we know why Miguel Diaz-Canel, 52, was chosen for the task and why just a few weeks earlier he accompanied Raul to the Rio-plus 20 Summit on global warming in Brazil. Recently he was dispatched to Caracas to address a rally in support of Venezuelan President Hugo Chavez.
He was being deliberately groomed as the man the Castros had judged to be the best option to take over.
The Castro brothers selecting him and his actually becoming president are not quite the same thing. To most outside observers he seems to lack the charisma that might yet be needed to woo the support of ordinary Cubans. A lot could happen in five years. Clearly though, he is now in pole position.
He started his climb taking top party positions at the provincial level before rising to the post of Education Minister. Trained as an electrical engineer he became known as a technocrat and a manager. "He's a much more flexible type than he seems, open-minded and above all intelligent," one Cuban official reportedly said.
The Castro years
1959 Fidel Castro overthrows United States-backed dictator Fulgencio Batista. He begins dismantling capitalist system and nationalises US companies.
1961 US breaks off diplomatic relations with Havana and sponsors an unsuccessful invasion by Cuban exiles at the Bay of Pigs. Castro proclaims Cuba a communist state.
1962 Nuclear war comes dangerously close with missile crisis.
1992 US tightens longstanding embargo on Cuba. Castro allows limited individual private enterprise.
2008 After prolonged illness, Fidel steps down. Raul takes over, beginning a string of reforms by lifting bans on owning mobile phones and computers.
2013 Raul Castro, 82, says he will step down after his second term.
-Independent