Concern is rising in the Middle East and North Africa over dangers posed by the Salafist minority of extremists.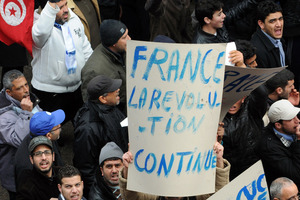 Late last year, largely unnoticed in the West, Tunisia's President, Moncef Marzouki, gave an interview to the World Today, the magazine of policy institute Chatham House.
Commenting on an attack by Salafists - ultra-conservative Sunnis - on the United States Embassy in Tunis, he remarked in an unguarded moment: "We didn't realise how dangerous and violent these Salafists could be ... They are a tiny minority within a tiny minority.
"They don't represent society or the state. They cannot be a real danger to society or government, but they can be very harmful to the image of the Government."
It appears that Marzouki was wrong. Following the assassination of opposition leader Shokri Belaid last week - which plunged the country into its biggest crisis since the 2011 Jasmine Revolution - the destabilising threat of violent Islamist extremists has emerged as a pressing and dangerous issue.
Violent Salafists are one of two groups under suspicion for Belaid's murder. The other is the shadowy, so-called neighbourhood protection group known as the Leagues of the Protection of the Revolution, a small contingent that claims to be against remnants of the old regime but is accused of using thugs to stir clashes at opposition rallies and trade union gatherings.
The left accuses these groups of affiliation with the ruling moderate Islamist party, Ennahda, and say it has failed to root out the violence. The party denies any link to the groups.
But it is the rise of Salafist-associated political violence that is causing the most concern.
Banned in Tunisia under the 23-year regime of Zine El Abidine Ben Ali, which ruthlessly cracked down on all forms of Islamism, Salafists in Tunisia have become increasingly vocal since the 2011 revolution.
The Salafist component in Tunisia remains a small minority, but it has prompted rows and mistrust among secularists and moderate Islamists. The Salafists are spread between three groups: new small political movements; non-violent Salafis; and violent Salafists and jihadists who have had a major impact in terms of violent attacks.
It is not only in Tunisia. In Egypt, Libya and Syria, concern is mounting about the emergence of violent fringe groups whose influence has been felt out of all proportion to their size. In Egypt last week, it was revealed that hardline cleric Mahmoud Shaaban had appeared on a religious TV channel calling for the deaths of main opposition figures Mohammed El Baradei and former presidential candidate Hamdeen Sabahy.
In Libya in recent months, Salafists and other groups have been implicated in a spate of attacks, including the assault on the US consulate in Benghazi. Among the countries which succeeded in removing their authoritarian leaders in the Arab Spring, Tunisia has faced the greatest challenges in its transition from Salafi-inspired jihadism.
In May last year, armed Salafists attacked a police station and bars selling alcohol in the El Kef region. A month later, a trade union office was firebombed. In September, a Salafist mob stormed the US Embassy in Tunis and an American school.
Although many of those involved in violence and encouraging violence could accurately be called Salafis, they remain an absolute minority of a wider minority movement.
The Government estimates that 100 to 500 of the 5000 mosques are controlled by radical clerics.
For Ennahda confronting extremist Salafist violence has become a challenging balancing act. Fearful of radicalising the wider movement by cracking down too hard it has sought instead to have a dialogue with those renouncing violence by condemning the "rogue elements". This is a policy that has led to accusations that it has been too soft or has secretly tolerated violence against secular opponents such as the murdered Belaid. As Erik Churchill and Aaron Zelin argued in an article for the Carnegie Endowment for Peace last April, "this position opens the door for secular groups to criticise ... the ruling party's actions [as] evidence of a double discourse - conservative in private and moderate in public".
Salafist jihadis
When an Al-Qaeda in the Islamic Maghreb (AQIM) cell was broken up in Tunisia last year, all its members were also found to be active in a Salafist grouping - Ansar al-Sharia, founded by Abou Iyadh. He was jailed for 43 years under Ben Ali's regime after being extradited from Turkey, but was freed under an amnesty for political prisoners following the 2011 revolution that ousted the president. The jihadist strand has recently been vocal in its condemnation of the intervention by France in its former colony of Mali, which has increased anti-French feeling. Algerian officials said 11 of the 32 Islamist gunmen who overran the In Amenas gas field last month were Tunisian. Tunisian jihadists are said to have left for Syria.
- Observer