Different states besieged by rain, fires and mini-tornadoes.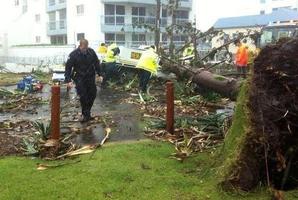 As cooler weather eased firefighting in Victoria and the nation celebrated Australia Day yesterday, a new disaster was declared in Queensland.
Mini-tornadoes ripped through two coastal towns and torrential rain from ex-tropical cyclone Oswald created havoc in central and southern areas of the state.
Heavy rain fell in Gladstone but hundreds of homes in the region that were at risk of being inundated by floodwaters escaped major damage.
The slow-moving storm delayed the threat to Brisbane, where water was released from dams to avoid a repeat of the devastating 2011 floods.
The system was forecast to dump up to 300mm in the southeast this weekend before moving into New South Wales. The Bureau of Meteorology warned of possible flooding on rivers from the Queensland border down to the Lower Hunter Valley and gale force winds.
One of the mini-tornadoes caused heavy damage in Bargara, east of Bundaberg.
Roofs were torn from buildings, power lines brought down and a couple critically injured when a tree fell on their vehicle.
Another mini-tornado hit Burnett Heads, a coastal town 15km northeast of Bundaberg. At least 15 people were treated for minor injuries and infrastructure was damaged.
In Victoria, a cool wind change swept across the state, easing a serious fire threat while days of fierce firefighting achieved the breakthrough needed to save many towns.
But firefighting in the state's Alpine and Gippsland regions could continue for some weeks with the wind now blowing two main fire fronts away from townships and back into vast, dry bushland.
In Heyfield, about 200km east of Melbourne, fire crews were able to stop the 66,000ha Aberfeldy blaze on Friday afternoon from roaring further into Gippsland properties.
Meanwhile, the Sydney Harbour Bridge recognised the nation's indigenous population on Australia Day, 225 years after the First Fleet arrived. For the first time, the Aboriginal and Australian flags flew together atop the bridge on the country's anniversary.
- AAP