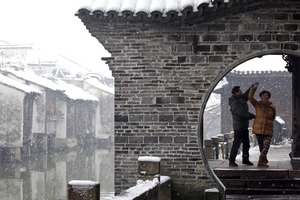 An anti-corruption drive in China has netted suspects that include an executive accused of cavorting with gigolos, a young woman who owns 11 apartments, a provincial official with 47 mistresses and a vice-mayor with ties to a drug gang.
Many alleged misdeeds were exposed by internet users - mostly whistleblowers and rogue journalists - and promulgated via unusually freewheeling coverage in state-owned media.
Another, less vaunted government clampdown - this one on dissenting views - leaves little hope for a Chinese people-power renaissance. Over the past week authorities have surreptitiously replaced an outspoken editorial in a liberal newspaper with brazen propaganda, scrubbed an open letter calling for constitutional governance from the internet, and closed an outspoken Beijing-based magazine for advocating political reform.
Communist Party secretary Xi Jinping said corruption could lead to the "end of the party".
His Administration has ruthlessly singled out venal officials and is implementing a series of regulations to limit displays of official waste. Yet analysts say that Xi's anti-graft drive is only skin-deep, and that party leaders will be hard pressed to eradicate corruption while maintaining their perennially hard line on dissent.
"For a short period of time, you can have draconian measures that can deter corruption, but in the long term the best way to deal with it is to make sure that there are checks and balances," said Steve Tsang, a professor of Chinese studies at the University of Nottingham, central England.
Yet there are many reasons why a culture of corruption will persist - officials are low-paid and poorly supervised, and the lack of a free press and independent judiciary eliminates any prospect of well-measured oversight.
"What we are likely to see, following Xi Jinping's commitment to his new policy, is that government officials will be a lot more careful in not displaying their ill-gotten gains," said Tsang. "They will do enough to reassure Xi that things are under control, and that is as far as they will go."
Since Xi became the top Communist Party leader in November, the central leadership has made an all-out drive to appear transparent and down-to-earth. Xi has banned a number of wasteful government practices, including prolonged speechifying and traffic-disrupting motorcades. A ban on expensive liquor at military banquets caused some leading brands' stock prices to plummet. The state news agency Xinhua has published extensive profiles of the country's seven most powerful leaders, a well-meaning stab at transparency, although they offer little more than breathless praise.
The recent explosion of corruption allegations on China's popular micro-blogs, however, has done more to reveal the depth of the problem than validate official efforts to eliminate it.
Hu Yong, a professor at Peking University's School of Journalism and Communication, said that while China's limitations on freedom of speech are systemic - the party simply does not tolerate perceived attacks on its legitimacy - the growing power of bloggers to expose corrupt officials comes from loopholes in the country's arcane censorship system.
"In China it's really hard to use these individual cases to make any predictions about the future," he said. "Because, in the end, the decision-making process is completely opaque."
Chinese censors have quashed reports that target the party's highest leaders. They blocked the New York Times and Bloomberg websites for publishing exposes on the wealth accumulated by the families of Xi and Wen Jiabao.
Corrupt practice
* A blog post on December 30 accused the party secretary of an impoverished county in Yunnan province of purchasing 10 SUVs and getting drunk with a group of attractive women.
* The vice-mayor of a small city in Guangdong province lost his job after a subordinate exposed his connection to a local drug ring.
* Blog posts accuse the deputy chief of the province's Land Resource Bureau of having affairs with 47 mistresses and receiving almost $5.4 billion in bribes.
* Chinese media have accused the 20- something daughter of a former housing official in Zhengzhou, capital of central Henan province, of owning 11 flats. Her 27-year-old brother may own as many as 14. Her family is under investigation.
* Last week, Chinese message boards filled with pictures supposedly showing a female executive at the state-owned China Petrochemical Corporation cavorting with male prostitutes in an upmarket Beijing club. Media reports suggested that an American company may have plied her with the gigolos - and then blackmailed her with videotapes of their encounter - to secure a lucrative building contract in the central Chinese city of Wuhan. The woman responded immediately, saying that she would "definitely pursue legal actions against those vicious slanders".
- Observer