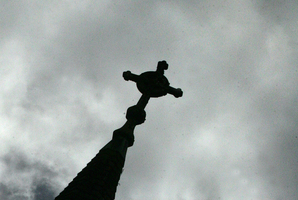 File photo / APN
An American church is under investigation after a 22-year-old man claimed he was knocked unconscious and imprisoned for being gay.
Michael Lowry, a longtime member of Word of Faith Fellowship Church, in Spindale, North Carolina filed a police complaint against the church, according to ABC News affiliate WLOS.
Lowry told the Charlotte Observer that he was kept in a church dormitory for months in 2011 after telling church members he was gay.
He was initially knocked unconscious as scripture was read to him because of his homosexuality, Lowry alleges.
"The pastor said to find out what my darkest secret was, and I was like, 'I'm never telling'," Lowry told WLOS.
"They hit my head with fists and I was out on the floor, they held my hands and feet down and were pushing on my chest and I could barely breathe."
Jane Whaley, a pastor of Word of Faith said the allegations are "not the truth at all."
"As far as this church being against gays, that's absurdity. There are 18 people in this church who have been delivered, they're not homosexual anymore, but if they were they could still stay in the church," she said.
Lowry has been subpoenaed to testify in front of a grand jury about his claims.
- nzherald.co.nz