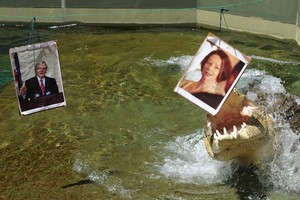 Prime Minister John Key expects Julia Gillard to win the Australian Labor leadership battle today.
The Australian Prime Minister will be pitted against the man she rolled as leader - former Prime Minister and Foreign Minister Kevin Rudd - in a leadership ballot.
Asked about the leadership race on Newstalk ZB this morning, Mr Key said Ms Gillard was likely to be the winner.
"But let's see how it goes. I've been around those sort of votes before when at the last moment they change,'' he said.
"The most important thing for a political party is unity. If you can't manage yourself, voters will think you can't manage the country, so whoever wins they've got a big repair job to do with the Australian public.''
Mr Key said the outcome of today's Labor vote was unlikely to affect New Zealand.
"Julia's been great from a New Zealand perspective, we've worked very, very closely with her. Kevin, I think, is committed to the relationship as well, but it was a very busy time when he first became Prime Minister, so, you know, let's see how it goes. On balance, I don't think it would change a lot.''
Ahead of today's leadership ballot, Labor was already attempting its reconstruction.
Both Gillard, Rudd and party heavyweights yesterday promised the bitter divisions that have rent the Government and crushed its credibility almost beyond repair would end after the caucus ballot.
"I believe Labor, all of us, every one of us, will unite after Monday's ballot," Gillard said after a weekend of furious campaigning.
"We will unite tomorrow and we will get our shoulders to the wheel delivering Labor's programme and plans. The things that unite us in the Labor Party are far, far stronger than anything else."
Rudd finally pledged to go to the backbenches quietly, renouncing any claims to leadership if he loses (Gillard has already done so), and promised loyalty to the woman who ousted him in 2010 in a coup that almost shut down Labor after one term.
"We have far bigger fish to fry here, far beyond the standing of Julia Gillard, myself or anybody else," he told Channel Nine.
"If Julia is returned then she will have my unequivocal support between now and the next election, because we have interests well beyond individuals here - they are the millions of Australians who depend on us to form a Labor Government to prevent [Opposition Leader Tony] Abbott from inflicting on Australia the ravages of the most extreme right wing the country will have ever seen."
Taken at face value, this should end the constant undermining and sniping that began with damaging leaks during the 2010 election campaign - reducing a hugely popular government to a struggling minority administration - and mounted until Rudd's dramatic resignation as Foreign Minister last Wednesday.
But the task ahead will be monumental no matter who wins.
Polls have consistently had the Opposition winning in a landslide that would bury Labor for years. Rudd echoed widespread belief when he warned of the consequences of failure to rebuild the party as a credible political force before next year's election.
Noting that Labor had lost 1.5 million voters since it defeated former Liberal Prime Minister John Howard in 2007, Rudd wrote in the Sunday Age: "Let's put that in stark electoral terms. Without a change, Labor stands to lose 30 or more seats at the next election ... a loss that would set us back for a generation."
Polls, ranging from the bizarre to serious, showed the scale of the task.
In Darwin, the Northern Territory News reported that Harry the psychic crocodile, who predicted Gillard's election victory and a series of Darwin Cup winners, again picked the Prime Minister to win by biting the slab of meat with her portrait attached. Perhaps significantly, the newspaper said, Harry went straight for the neck.
Newspoll in the Australian, Nielsen in Fairfax newspapers and Galaxy in the Herald Sun, Melbourne, all placed Rudd well ahead of Gillard as preferred leader, although opinion in Nielsen was divided over whether there should be a change.
Gillard was level with Abbott as preferred Prime Minister in Nielsen and slightly behind in Newspoll, while Rudd was clearly ahead of Abbott in both. Galaxy said that if Rudd ousted Gillard, Labor's vote in the two-party preferred vote that decides Australian elections would rise from certain defeat to 49 per cent - just two points behind the Opposition. "If Kevin Rudd was to lead the Labor Party, the poll suggests it would bring Labor back into contention," Galaxy Research pollster David Briggs told the Herald Sun.
But it is clear that despite Rudd's attempt to inspire supporters to pressure MPs into voting for him, his challenge will fail and the caucus will vote against the polls.
Reflecting the wave of accusations of autocracy, arrogance and mismanagement levelled against Rudd by ministers who served in his Cabinet, School Education Minister Peter Garrett said yesterday he would not serve under the ousted leader again.
Garrett carried the can for the bungled and scandal-ridden household insulation programme launched as part of the global financial crisis economic stimulation package. "I couldn't go through that again," he said.
Most Cabinet ministers will back Gillard today, with only a handful intending to vote for Rudd. Most of the MPs in Labor's marginal electorates have said they would rather risk a Government defeat than have Rudd back as leader. All but five of the 20 MPs surveyed by the Sunday Age supported Gillard.
Ahead of today's ballot, the party was trying to pick up the pieces.
Rudd said that it was time for the "faceless men to lay down the cudgels", and Gillard said "I do not want to see continued commentary on these kind of matters after Monday".
She added: "What people will be talking about after Monday's ballot is our programme for reform, our vision for the future and why it is at risk under Tony Abbott."
- Greg Ansley
A PARADE OF EGOS AND DIVAS... THEN THERE'S THE OSCARS
Australian Labor MPs face a stark choice this morning, and so does the public. Should they tune into the leadership ballot, or watch live coverage of the Academy Awards, screening simultaneously?
"One's a parade of egos and divas; the other is the Oscars," observed Simon Morris, video news editor at Fairfax Media. Viewers could be equally confused. Anthony Albanese's tearful press conference, where he announced he was supporting Kevin Rudd, was a performance reminiscent of a Gwyneth Paltrow acceptance speech. After listening to "Albo", Rudd told Brisbane shoppers that "there were very few dry eyes in the Rudd household".
Rudd could pick up a best actor award for his protestations to be an (expletive deleted) reformed character. His next role? Perhaps Gunfight at the OK Corral . Julie Bishop, the deputy Opposition leader, has compared the leadership tussle to a saloon bar brawl, with the combatants trading punches, smashing stools, then throwing one or the other out through the swing door.
Yesterday Rudd was questioned about claims that he called Julia Gillard a "childless, atheist, ex-Communist" last year. "I've made a point of not focusing on anyone's religious beliefs or otherwise." So that just leaves the childless ex-Communist, then.
Gillard and her backers have been trying to undermine Rudd's "people power" campaign by stressing that the ballot is not about star appeal.
"The Rudd antics would make Kim Kardashian blush," said the Health and Ageing Minister, Warren Snowdon. The Rudd-Gillard partnership lasted marginally longer than Kim's marriage.
The prime ministership is "not an episode of Australian Idol", asserted Greg Combet, the Climate Change Minister. "This is not about a celebrity poll, otherwise Kylie Minogue could end up being prime minister," insisted the Human Services Minister, Brendan O'Connor. Now there's an idea for a compromise third candidate.
- Kathy Marks
HEAD TO HEAD
Julia Eileen Gillard
* Age: 50.
* Born: Barry, Wales, grew up in Adelaide, now lives in Melbourne/Canberra.
* Electorate: Lalor, Victoria.
* Marital status: Never married, no children. Long-term partner Tim Mathieson.
* Faction: Nominally left.
* Time as PM: Since June 2010.
* Entered Parliament: 1998.
* Roles in Opposition: Population and immigration spokeswoman; indigenous affairs spokeswoman; health spokeswoman; employment and industrial relations spokeswoman; Deputy Opposition Leader.
* Roles in Government: Deputy Prime Minister; Education, Employment and Workplace Minister.
* Previous life: Solicitor for Slater and Gordon.
* Tactic: Send out Cabinet big guns to remind electorate and caucus of the worst aspects of the Rudd Government.
Kevin Michael Rudd
* Age: 54.
* Born: Nambour, now lives in Norman Park, Brisbane and Canberra.
* Electorate: Griffith, Queensland.
* Marital status: Married to Therese Rein since 1981. Three children.
* Faction: None.
* Time as PM: November 2007 to June 2010.
* Entered Parliament: 1998.
* Roles in Parliament: Opposition foreign spokesman; Opposition leader; Prime Minister; Foreign Minister; backbencher.
* Previous life: Diplomat, political adviser.
* Tactic: People pester power: get voters to inundate Labor MPs and senators with demands to return him as PM.
- AAP