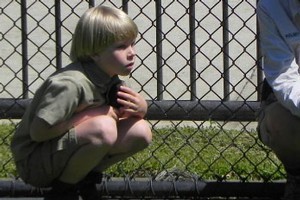 Terri Irwin looks relaxed. Through the window of her south western Queensland conservation property she can see a dozen or so emus, sauntering around in the front yard.
Irwin and daughter Bindi laugh at the antics of the birds.
Here is 34,000ha of land which is regaining its biodiversity as many species are re-established after years of clearing by farmers.
The name of the Westbore property is Mourachan, but Terri calls it paradise.
More than 10 years have passed since Steve Irwin and Terri drove into this semi-arid region known as the Brigalow belt and set up camp.
They bought the first of many properties in the area.
It was the start of a dream, a plan to conserve the diversity of the semi-arid ecosystem.
Terri and the Australia Zoo staff ensure the dream continues today, but there is no getting around the fact that it is without Steve.
"Yeah, we talk about Steve, there are good days and bad days," Terri confides.
"Robert [their son] had a hard time, even out here. I think somewhere he must remember being out here with Steve because, all of a sudden, he's just done, and for an hour he's just inconsolable."
"But that's fine, I think it's okay to miss your dad and cry when you miss someone."
As if on cue a khaki-clad Robert Irwin pops his head through the door.
Ranger Barry Lyon, who manages the Steve Irwin Wildlife reserve in North Queensland, is here with the family and his wife Shelley, who is also Robert's teacher.
Barry has offered to drive the family and PhD student Melissa Bruton to Thomby dam to look for animals.
Ranger Barry drives slowly. "I can't believe how much it has changed," Terri says.
She describes how a land of dust and scrub is becoming a land of trees, acacias and grass.
Ranger Barry slows down as a mob of eastern grey kangaroos checks us out.
Our plan to reach the dam is challenged when a large fallen acacia tree blocks our path.
Ranger Barry is hesitant to use the snatch strap on Terri's newish 4WD (he prefers a different brand of 4WD) and some light-hearted humour begins.
Barry, who sleeps in a tent in the North Queensland Wildlife reserve and here at Mourachan, is heading off to Hollywood soon with the family.
Bindi is making guest appearances in some children's shows there and the family stay together, always.
After he has dragged the tree off the track and cut off a branch with the saw on his utility knife, Terri emerges from the 4WD with a blade that looks a foot long.
Everybody cracks up, even Barry, when Terri quips: "That's not a knife Barry ... this is a knife."
We all start wondering and talking about how Barry will cope living in a unit in Hollywood.
Later that night over dinner Terri talks about the importance of conservation.
"Mainstream media is where we must get the message out. It doesn't have to be published in a scientific journal, it has to be in the newspapers people pick up." After dinner, Bruton begins her check of the 12 Woma pythons she has found in the area.
Terri's original plan was to release one of them, Big Bobby, who fell sick recently, but the cold and wet conditions are not suitable.
The next day a frost has frozen the windscreen wipers of the 4WD.
Everyone is still wearing three layers of clothes, except Robert who, hands in pockets, is in the trademark shorts and short-sleeve shirts his father made a fashion item.
"I'm not cold," he says and after Terri feels his arms he is allowed to search for lizards with Ranger Barry.
They lift up sheets, enter unused old long-drop dunnies and uncover some Bynoe's geckos.
He dives in when he spots one then caressingly puts them back in the same place.
I ask if he can tell me something about them and he impeccably does a piece to video, telling me about their tails, without missing a beat. Passion is in the blood of all the Irwins.
One of Steve's dreams was to open up an African section in the Australia Zoo and the seeds planted more than 10 years ago have now come to fruition with the opening yesterday of Africa.
As Terri describes how invaluable Africa will be to add to the legacy of Steve Irwin and how hard managers and staff have worked to bring forward the opening date, we can hear Robert on his little motorbike going up one of the tracks.
She has a peek to watch him and Barry as Robert slows down to pass some of the emus.
Terri confirms that yes, in the plains where the cheetahs and rhinos and giraffes now roam at the zoo, Steve used to tie a teddy bear of Bindi's to the back of the bike and race up and down to keep the cheetahs active.
One day they were a little bit too fast and clipped the toy which jammed into the spokes of the back wheel, sending Steve head over heels off the bike, although he was quickly back on his feet.
The opening of the new section was certain to be emotional for the Irwins.
As Terri says, "whatever happens is okay. We just want to honour him, not so much because of him but for what he stood for".
Or as 7-year-old Robert succinctly puts it, "Every day is an adventure ..."
How you can help
* Put a pond in your garden. Introduce frogs.
* Put a bird bath in your garden.
* Feed the wildlife. Don't listen to those who say otherwise.
* Encourage butterflies and bees with garden plants.
* Plant native trees if you can.
* And be careful of your waste and how you recycle.