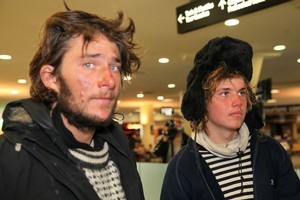 The two survivors of a Norwegian expedition following the footsteps of legendary compatriot Roald Amundsen to the South Pole have defended their journey amid growing condemnation.
Bedraggled and showing signs of facial frost bite, controversial Scandinavian adventurer Jarle Andhoy and his 18-year-old companion Samuel Massie yesterday spoke of their ordeal after being airlifted from Antarctica to Christchurch by a United States Operation Deep Freeze flight.
While the pair managed to trek non-stop for a week to the US base at McMurdo Sound, the three other members of the Wild Viking expedition are believed to have perished in the Southern Ocean after their 14-metre steel vessel Berserk disappeared a week ago.
Andhoy, 34, undertook his latest polar odyssey without permission from the Norwegian or New Zealand governments - he has a history of launching unsanctioned voyages, though this is the first that has, likely, ended in tragedy.
He and Massie disembarked from the Berserk on February 13 near Scott Base to start their quest on quad bikes to mark the centenary of Amundsen becoming the first explorer to reach the South Pole on December 14, 1911.
The Berserk's emergency locator beacon was activated last Tuesday. It lasted for several hours before transmissions ceased and it is now assumed the yacht sank in one of the worst Antarctic storms in 20 years.
The missing men are Tom Gisle Bellika, 36, and Robert Skaanes, 34, who are Norwegian, and Leonard J. Banks, 32, who holds dual South African and British citizenship.
Lou Sanson, chief executive at Antarctica New Zealand, said the venture was unwise.
"It was very unusual to be attempting a 1600km trip to the South Pole on motorbikes. It is minus 20 [C] there. On the Polar Plateau it is minus 30. You get wind chill up to minus 70. These guys were 220km towards the pole and still had over 1200km to go."
Andhoy insisted he had taken the necessary precautions to safeguard his crew.
"I think we did everything as good as we could. We prepared 110 per cent.
"The place where this incident happened was a very easy-going place to sail, it's near a sound, near land, safe anchorage ... This ending is very, very surprising. There's no logic to it."
Andhoy had not considered the repercussions of his adventure when returning home; his initial concern was contacting the families of the missing men, who he believes have little hope of survival.
"There's nothing to prove the boat is lost but I am going to be very honest with the [families] and realistic.
"If there is a mechanical problem or distress situation, hopefully they are flying with the winds."
Massie held faint hopes the Berserk was "sailing somewhere in South America without an engine" but was also braced for the worst.
"It's been really traumatic. I'm here and not my crew[mates]," he said.
Andhoy said he was grateful for an extensive multinational search that covered more than 10,000sq km, often in treacherous seas and 180km/h winds.
"This help is really beyond anything we expected because we put ourselves in that situation."
- NZPA