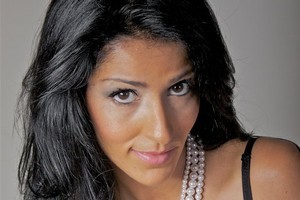 Apologetic New Zealander Toby Carroll has been bailed from a Dubai prison and his two girlfriends have revealed new details of the events leading to their arrests.
Danielle Spencer - the British woman caught in bed with Mr Carroll by his knife-wielding ex-lover Priscila Ferreira - was also released on bail yesterday, claiming the pair had "not even had sex".
Ms Ferreira - the 24-year-old Brazilian model who is expected to be bailed today - claims she and the New Zealander had not split up, and were actually planning to marry.
"We hadn't split up, we'd had an argument." she told Britain's Mail on Sunday.
"We had been seeing each other for about five years and were going to get married.
"We used to live in Spain and moved here together a year ago. Obviously I am no longer with him now, but he is still a friend."
Ms Spencer, 31, spoke of becoming close friends with Ms Ferreira since their arrest.
The pair shared a filthy mattress in the notorious Bur Dubai jail for the past 30 days.
"We just had to become friends because it was such a terrible experience," Ms Spencer said.
"All we had was each other for comfort and at night we would huddle together on our mattress, scared out of our lives," she said.
"We were in a stinking room with murderers. I got to know Priscila well and like her.
"There are no hard feelings. I have forgiven her for what she did.
"We have both laughed at the irony of it - I locked myself in the bathroom to get away from her when she went crazy with the knife and now I realise that she is the safest person to be with here in prison."
The Mail on Sunday accompanied Ms Spencer at the time she was bailed, and as she and her mother, Angela, met Mr Carroll, 32, at another Dubai police station.
According to the Mail on Sunday, he greeted Angela Spencer with the words: "I'm so sorry about this, I really am."
The trio's troubles started when Ms Ferreira went to Mr Carroll's apartment in mid-December and found him in bed with Ms Spencer.
She took to the apartment with a knife and Ms Spencer locked herself in a bathroom while Mr Carroll called the police - and all three were arrested.
The case has been referred to the public prosecution office in Dubai.
Ms Ferreira may face charges for criminal damage, while Mr Carroll and Ms Spencer were arrested on suspicion of having sex outside marriage. The pair could be jailed under Dubai's strict laws.
Ms Spencer, who met Mr Carroll at a bar, said: "It has been a nightmare. I did not even have sex with that guy."