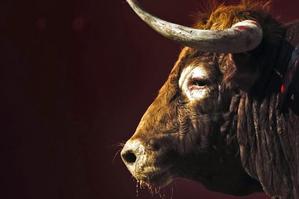 Bullfights have become a weapon in Spain's fierce regional rivalries. Photo / AP
Matadors, philosophers and politicians in Spain are embroiled in a furious debate over the bloody but emblematic sport of bullfighting.
And in clear provocation to its great rival Barcelona, Spain's capital Madrid has officially elevated bullfighting to the status of a protected art form.
While the northeastern region of Catalonia debates a total ban on bullfighting, Madrid has declared it a protected piece of the region's cultural heritage.
Esperanza Aguirre, head of the conservative regional government in Madrid, announced the bullfight (the corrida) would be put on the list of items of "special cultural value" that were protected by law.
The eastern regions of Valencia and Murcia immediately declared the bullfight part of their protected culture, confirming its new status as a key weapon in the long-running battle of identities waged between Spain's fractious regions.
The move puts the corrida on the same cultural level as Madrid's most important historical buildings and monuments. It gives fight organisers special tax breaks and, critics claim, could see those trying to stop bullfights being taken to court for "damaging" the region's cultural heritage.
The decision emphasises the divide between those who see bullfighting as either a cruel sport or high culture.
Spanish newspapers have always treated it as the latter, with reviewers writing on the culture pages. Aguirre now leads the second group, which includes some leading leftwing intellectuals, artists and performers.
In Barcelona, the committee set up in response to a public petition to ban bullfighting has heard evidence from bullfighters, philosophers, writers and vets.
The anti-bullfight veterinarian Jose Zaldivar said claims bulls felt little pain when a matador sank a sword into its neck were wrong.
He said matadors usually missed the vital spot that would cause a quick death. "It is a slow, agonising death - as the high acidity of their blood proves."
- OBSERVER