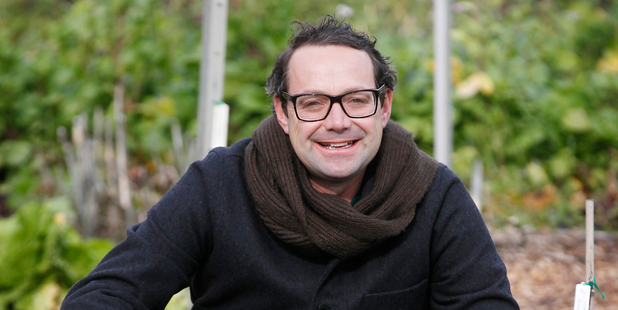 I'm excited about visiting the Agrarian Kitchen, a farmed-based cooking school about 45 minutes from Hobart in Tasmania's Derwent Valley. I have heard so much about it.
Softly spoken Rodney Dunn and his wife Severine moved to Lachlan from Sydney in 2007, transforming a 19th century schoolhouse to accommodate both their home and the school.
Rodney's cooking classes started at the beginning of 2009.
In that time the Agrarian Kitchen has established a reputation through Australia for its innovative, yet practical approach specialising in what Kiwis would call 'paddock to plate' food.
I guess it is a bit like the River Cottage of Australia; however, instead of Hugh Fearnley-Whittingstall, my host is this wonderfully knowledgeable former Sydney-sider.
His career history includes working for well-known Australian chef Tetsuya Wakuda and being food editor on one of my favourite magazines, Gourmet Traveller.
I know immediately that I am in good hands.
Rodney and Severine have put in the hard yards, transforming the historic weatherboard school house into a state of the art cooking school without sacrificing any of its charm.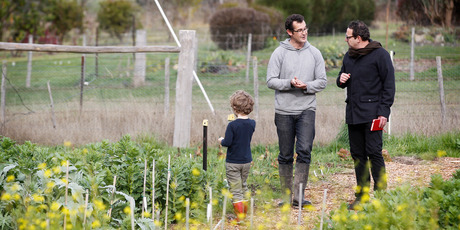 It now accommodates his cooking class on one side of the building with his family home on the other.
His 2ha working farm has Wessex saddleback pigs, milking goats, rare breeds of chickens and big, fat geese ... but they are not just there to look pretty. Their destiny is very much to become the main ingredients in many of his cookery classes, with courses ranging from making sour dough through to using a whole animal where Rodney brings in a butcher to show students how to cut it all up, how to smoke it etc.
I'm thinking about enrolling for the 'From Head to Hoof' class which involves cooking every type of cut that exists on Rodney's prized pigs. He even posts you the salami you make a few weeks later once it has finished hanging!
Rodney is passionate about his ventures and two hours in his company, as we explore the school, passes in what seems like minutes. I'm given a tour of the hot houses, the extensive vegetable gardens with their heirloom varieties and row after row of every type of berry you could hope for and all grown using organic principles, cold smoke rooms, chillers full of game birds and meats curing.
As we walk and talk, a delivery of freshly shot pheasants arrives, to be hung in anticipation of another class called 'Birds of a Feather'.
I am captivated by Rodney's work. He is providing people with all levels of cooking prowess with a truly amazing experience. He has worked hard to work and live in the same place, with his family around. I could easily have spent hours in this man's company, as we connect easily and our backgrounds and values are similar.
When you walk into the cooking demo area, there is a big fire in the corner, a table that seats 10, and one wall is devoted to all the recipes books he's collected over the years - at least 500 of them.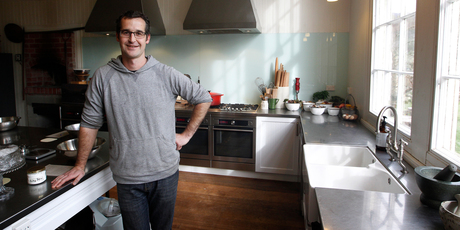 In the kitchen are a big stainless steel bench and another open fire. It is grand but also cosy and inviting.
His classes attract beginner cooks through to those at ease in the kitchen. One third of the time is spent in the garden, one third in demos and cooking in pairs and fours, and one third eating and drinking your food.
Rodney is a humble man. He was brought up on a farm in New South Wales, left it to work in the city and has now returned to the country to give his kids a rural lifestyle and the family is there in their little gummies mucking around, getting dirty and loving this wonderful setting.
Classes are run on weekdays and at weekends. Have a look at theagrariankitchen.com.


Recipe for Quinoa with roasted root vegetables and tahini yoghurt by Rodney Dunn, The Agrarian Kitchen
Serves 8
Ingredients
• 1 bunch (about 8) baby carrots, tops trimmed
• 12 baby turnips
• 12 baby beetroot
• 1 tbsp coarsely crushed cumin seeds
• 50 ml olive oil
• 2 cups quinoa, rinsed
• 4 spring onions, thinly sliced
• ½ cup loosely packed mint leaves
Tahini yoghurt dressing
• 1 cup thick natural yoghurt
• 3 cloves of garlic, finely grated
• 100 ml extra virgin olive oil
• 1 tbsp tahini
1. Preheat oven to 180C. Place carrots and baby turnips in a large roasting pan, scatter with cumin seeds, drizzle with olive oil, season to taste with sea salt and freshly ground black pepper. Wrap beetroot in foil, drizzling with olive oil and seasoning with salt and pepper, add to roasting pan and roast until tender, about 1-1½ hours.
2. Soak quinoa in cold water for 20 minutes. Bring a large saucepan of water to the boil over high heat, place a steamer over the top and line with muslin. Add quinoa and cook for 10-15 minutes or until tender, remove, season to taste and set aside until required
3. For the dressing, combine yoghurt, garlic and tahini in a bowl and stir to combine, whisk in olive oil in a thin stream and season to taste with sea salt and freshly ground black pepper.
4. To assemble salad, arrange quinoa over serving plate, scatter with vegetables and drizzle with tahini sauce and scatter with spring onion and mint.

A taste of southern Tasmania
DAY 1 - Hobart and surrounds:
Start your culinary pilgrimage just two minutes from Hobart Airport at Barilla Bay Oysters, before tasting wines at the Frogmore Creek Vineyard in Coal River Valley.
Enjoy lunch at Wicked Cheese, including the award-winning brie, before visiting Richmond Tasting House for Tasmanian produce, wines and whiskies.
Grab some bread from the local bakery and stroll to Richmond Bridge to feed ducks. Built in 1823, it's Australia's oldest bridge. If you have a sweet tooth, don't miss the Sweets and Treats Lolly Shop. But don't spoil your appetite, because tonight brings tapas at stylish Ethos Eat Drink in Hobart.

DAY 2 - Inner-city Hobart:
This morning, join the Gourmania Food Tour to sample local culture, urban history, great food and wine.
Next up, visit the Salamanca Arts Centre and walk to Battery Point along Kelly's Steps, built by Captain James Kelly in 1839.
Afterwards, swing by the Tasmanian Museum and Art Gallery (TMAG), Australia's second oldest museum. TMAG's artistic and historical treasures illustrate Tasmania's rich past.
Catch a ferry to MONA to see its great exhibitions, where you will also find Moorilla Winery and Moo Brewery offering a tipple to whet the appetite before Crumb Street Kitchen (back in Hobart) fires up for dinner. The pulled pork sandwiches and ribs are a winner.

DAY 3 - Hobart to Huon Valley:
This morning you'll find out why Tasmania is called the Apple Isle at Australia's first organic cidery, Willie Smith's Cider, in the Huon Valley, and the Huon Apple Museum showing how Apples were once the lifeblood of the Tasmanian economy.
Relax in armchair comfort for lunch at Red Velvet Lounge and perhaps finish with something sweet at Cygneture Chocolates. Returning to Hobart, stop at Grandvewe Cheese to learn how organic sheep cheese is made. Mt Nelson Signal Station is also a good stop with views over Hobart and surrounds.
Back in Hobart, Smolt Restaurant offers a fusion of Spanish and Italian dishes made with local produce.

Plan your gourmet getaway at discovertasmania.com.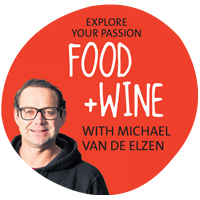 IF YOU GO
Getting there: Fly there with Air New Zealand.
Find out more at: Australia.com and Visitmelbourne.com.
Michael Van de Elzen travelled to Tasmania with the assistance of Tourism Australia,Discover Tasmania and Air New Zealand. For more information visit Explore - Food and wine.
- NZ Woman's Weekly