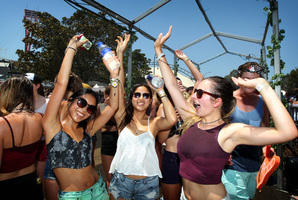 The mercury in Sydney reached record levels yesterday, while in New Zealand we are in for a dry spell.
Sydney-siders searched out shade and air-conditioning yesterday, with the temperature reaching 45.8°C just before 3pm, breaking the previous record of 45.3°C set in 1939.
Only the very brave entered the mosh-pit at the Big Day Out music festival in Homebush, and misting stations were set up to cool down partygoers.
Philip Duncan of WeatherWatch.co.nz said such temperatures were unbelievable.
He had been in touch with friends in the city whose chosen tactic was to remain motionless.
"They're in the bedroom with the doors shut and the airconditioning on ... someone said their jandals were melting on the footpath.
"If the air temperature is 46°C, imagine what the heat is like in the sun on the footpath - the heat will be incredible. This is something."
Mr Duncan said that the same high pressure system that fed hot winds into Sydney was bringing the cold south-westerlies that had brought a cold change to much of New Zealand.
The system would change as it moved across from Australia, and would bring hotter temperatures from Canterbury to about Marlborough today. "We get the watered-down version that has to travel all the way across the Tasman Sea ... it doesn't have the same oomph."
However, this weekend the beginning of a transition to more normal summer temperatures would occur.
By Monday a high pressure system would have built over New Zealand, bringing fine and settled weather for most of the country.
"Once next week arrives, we are pretty much getting locked into a summer weather pattern for the rest of January," Mr Duncan said.
"The heat will come back quite quickly in some areas. It looks like we're going to have a series of highs that are going to linger around the country right through Auckland Anniversary Weekend."
Mr Duncan said while such an outlook was good news for those on holiday, some regions faced the prospect of a potential late-season drought.
Read more: The Big Day Out NZ missed