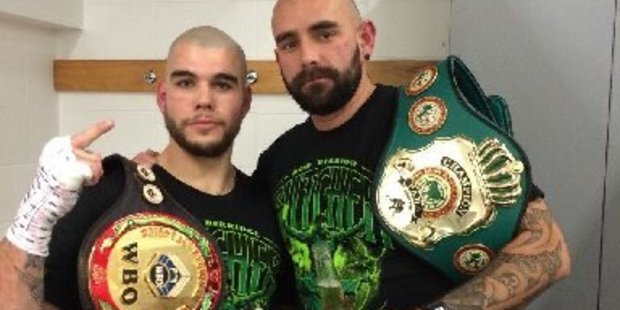 Don't ever give a southpaw with a fearsome reputation for knock outs and putting opponents in hospital a clear shot at you with his left hand.
But Brazil's Rogerio Damasco did and it cost him a broken nose on the way to a first round TKO defeat to Wanganui expat lightheavyweight Robert Berridge in the main undercard fight of the Hydr8 Zero Joseph Parker vs Brian Minto pay-per-view at Vodafone Events Centre on Saturday night.
'The Butcher' Berridge circled and dropped Damasco (now 12-2-2) with just his fourth punch, then closed in after the standing eight count to land combinations which had Damasco staggered into the ropes and down again, with his corner throwing in the towel after a little over two minutes.
Ranked No10 in the world by the WBO, Berridge's record now moves to an imposing 24-1-1 with 20 knockouts.
"It came pretty quick," he shrugged after the match.
"[But] I said in the press conference I was going to rip his head off.
"Hopefully it will take me a few places up the ladder."
His Wanganui cousin and cornerman Paul Berridge said even after all the hard training, the quick finish came as a surprise.
"Would have liked to have a little bit more rounds, I think, that was the word from the camp.
"The time he's had over the last couple of months, trying to get the Sergey [Kovalev] fight, he just wanted to put it out there.
"They're throwing in the towel, so they must have known [about the broken nose]."
Robert Berridge had been frustrated to miss out on a world title shot against the WBO champion Kovalev in August.
While no upcoming fight has been announced, Paul Berridge said the strategy from handlers Duco Events was to get both his cousin and Parker more exposure in the United States, in the case of Robert Berridge, being marketed on his exciting, no-nonsense, brawling style.
"[Duco's] Dave Higgins was saying, 'that's what the American market likes', that sort of fighter."
It is the third straight fight by 'the Butcher' where his opponent has needed medical attention.
In November, top New Zealand fighter Daniel McKinnon had emergency surgery for bleeding on the brain after an absolute war with Berridge, then in February Australia's Kerry Foley broke his hand on Berridge's head before getting his rib broken moments later by a ripping body shot.