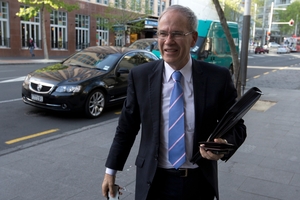 I'm torn today between yakking to y'all about something utterly upbeat and inspirational ... or having a whinge about Len Brown like every other man and his dog. The reasons to avoid the latter are many and varied, not least among them that it is the end of a long week in Auckland mayoralty politics and even Aucklanders must be tired of hearing about the questionable ethics of their leaders.
Chances are the topic appeals even less to the rest of us living out our respectable provincial lives in possession of newly-elected mayors of (until Whaleoil informs us otherwise) faithful disposition.
It is also worth noting that if one has the choice between saying something nice and something nasty, one should always go for nice. Except that this is the media. And politics. So, of course, that rule is quite the opposite.
In defence of the argument that all that can be said about Len Brown and his indiscretions has been said already, I can only conclude that works in my favour, because I love nothing quite so much as having the last word.
Or several.
Which in this instance are that if every man in a senior position who had an affair lost his job, our economy would be in a shambles. Although given women would be holding a much bigger chunk of our powerful positions, maybe it wouldn't.
Either way, although it would be nice to think that our leaders all lived in faithful little nuclear families and went to church on Sunday, the reality is that politicians and senior bureaucrats are as fallible as the rest of us and if they perform their high-pressured jobs ethically and according to the brief, do we really need to know what they do behind closed and privately-owned doors?
And although the "indiscretions" are alleged to have happened during office hours and on council premises, one can only assume mayoral business happened outside office hours on non-council premises to off-set any perceived taxpayer-funded advantage the location of his trysts may have incurred.
I'm not interested in taking spiritual or moral direction from my mayor. Those who voted for him weren't voting in a father or a husband. Surely the only expectation we should have of Len is that he solve Auckland's traffic woes without draining the national tax take. If he does this in the arms of another woman, it's not cool but it's also not relevant.
John Banks telling fibs about who financed his election campaign is a different matter entirely - and one that was timed so well in Len's favour you could have set a stop watch by it.
No one likes a philandering mayor. But they like them a heck of a lot more than mayors who allegedly take donations from dubious sources then deny knowing anything about it.
So, there it is. My rant on Len Brown. May he rest in peace. Although the chances of that happening when his wife has probably put him on dishes duty and every other dour domestic task for the rest of his natural life are rather slim.
To end my piece with a dash of upbeat, I'll explain more about that inspirational stuff I almost bored you with for this entire column. In accordance with my responsibilities as an ambassador for the TripSwitch campaign I wrote about last weekend, I walked to work today. As cars whizzed past me, I oozed worthiness and good feeling. I'm still feeling good now. But as predicted when I started writing today, that's about as much as you can say about something so positive. Other than to leave you with this suggestion: Try it yourself.
Go on.