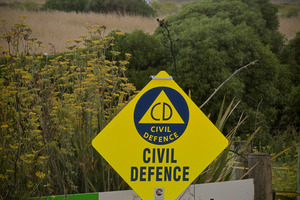 SOMETHING newspapers have to be careful about is the beat-up.
It happens when you get an intriguing story angle but you need some material to boost it.
All papers are prone to it. I can remember, when I was a student journalist and doing the Saturday round for the Herald on Sunday, being rung up by the editor after then Prime Minister Helen Clark had described someone - I can't remember who - as "cancerous". The editor wanted me to ring the Cancer Society to ask them if they were offended by Ms Clark's use of the word. I politely agreed to do so, then quietly put the phone down and resolved to "forget" to do that. The thing is, do a beat-up too often and the readership will let you know when you're not being realistic. Journalists seek stories to report, but we're not necessarily grounded in the community we're reporting on, or experts on every subject we touch.
The tsunami story over the past two days has been an interesting example of information versus sensationalism.
A 250-page scientific report is produced, showing certain coastlines of New Zealand being prone to bigger tsunamis than first thought. This is important information and is of public concern. It needed to be reported. But you also have "tsunami" as a sexy, exciting word - 12m waves sound impressive.
We've all still got memories of the Japan tsunami. So every media outlet, from Northland to Southland, just has to get on board for the public good, but also find a way to interpret a 250-page document.
I was amused by a television station's efforts to track down an individual at Lake Ferry and have her looking, perhaps with a concerned look on her face, out towards the Pacific Ocean. Other media outlets chose to simply summarise the report for their locality.
The Times-Age elected to ask the people on the ground, and - not surprisingly - the answer was along the lines of: look, we're sorted, we know what to do.
This is one of the things about rural communities. People know their environment, they know their community, they know about preparedness, and they aren't stupid. And you can't fool them with a beat-up.
For more articles from this region, go to Wairarapa Times-Age