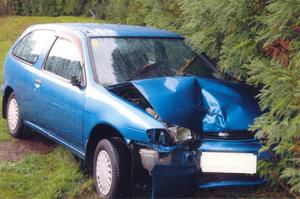 I'VE seen a story acknowledging our rate for passing learner drivers in their theory test that Wairarapa has improved - to 66 per cent. I believe the pass rate for the practical test to get a restricted licence is about the same, and better than Wellington.
I come from a generation where you simply memorised the theory test sequence and the answers, and the only way to fail a practical driver's test would be by getting caught sleeping with the tester's partner. My father, who was one of the few students at Mana College who actually had a car, sat his test by driving once around the block in the rain in a car that had long since lost its roof. The disgruntled - and wet - traffic officer awarded him his licence and quickly got back into his car. My father was subsequently able to use his car to pursue reasonable success with dating senior girls - as long as it wasn't raining.
Move forward a generation. The theory test was nonsensically easy and I nailed the practical in Wellington thanks to practising the two known Wellington driving routes ad nauseam. I chatted to the tester about the rugby while I drove the route perfectly in my Hillman Avenger.
It is certainly a good thing that the driving age for getting a licence is now 16, and it is good it's much tougher to pass the tests. But I believe we are completely missing the big picture when it comes to young drivers and road deaths. Not counting alcohol factors, I believe the combination of inexperience and the type of high-powered cars available is killing people.
When I lived in England, it was impossible for a young person to buy "rice rockets" like Subaru Imprezzas or Nissan Skylines because the insurance premiums were beyond the ability of a teenager. It meant would-be boy racers had to settle for little two-door Peugeot hatchbacks or Citroen Saxos.
But here, you can get a high-powered car, designed for professional drivers, at a car auction or Trade Me and happily set yourself up with cheap third party insurance. Even experienced drivers don't know how to handle these cars.
I believe cars over a particular cc rating should require insurance so far out of the range of a driver under 25, they'd have to have a third job to support it.
Youngsters will always believe they are above-average drivers. "Oldies"will say youngsters can't drive to save their lives. Tragically, the oldies are usually proved right.
For more articles from this region, go to Wairarapa Times-Age