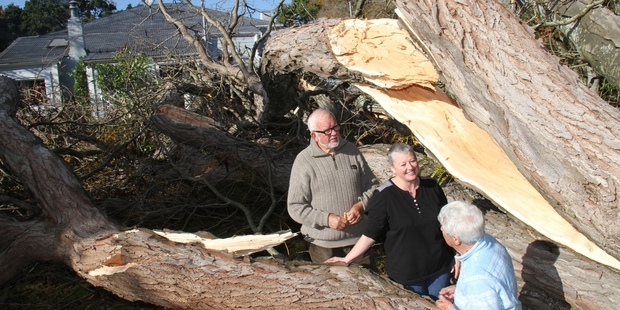 A Greytown homeowner said she nearly panicked when neighbours called to tell her the historic tree in her backyard had toppled against her house during high winds on Saturday afternoon.
But Toni Cathie says she cannot believe her luck - just one lingering branch has touched her kitchen roof, while the bulk of the tree has flattened her garden on Main St.
It is a sad end to a noted Greytown tree, a honey locust that would have turned 76 years old in January.
"Where do I start?" said Ms Cathie, who returned from a trip to Wellington to survey the mess. But her house was spared.
"I'm truly counting my blessings today," she told the Times-Age.
She and her rear neighbours, Mike Lynch and Ngaire Chamlet, informally share their gardens and she does not like to think what would have happened if they had been out there.
The Wellington trip was also fortuitous, because her car is normally parked at the rear of the house.
"It would have been smashed and I do love my car."
She said her parents had just arrived - dad with a chainsaw and mum with a pair of loppers.
"Dad said: I think it's a bit big for us."
Although the tree does not appear on the Combined Wairarapa District Plan's notable tree list, she believes it was the biggest example of a honey locust in the district.
Ms Cathie has lived in the house for four years and has the tree's official paperwork - which she will now frame.
For more articles from this region, go to Wairarapa Times-Age