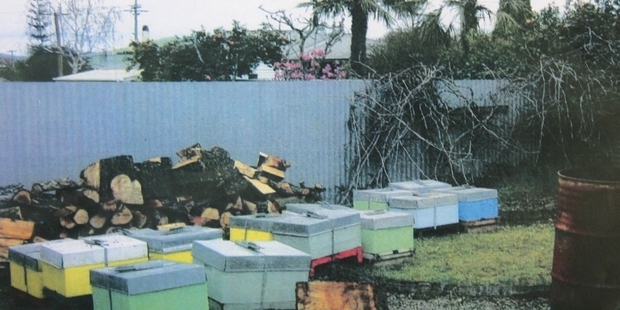 When the council got a complaint about swarming bees in a residential street it quickly led to the discovery of more than 30 stolen beehives in Jaime McRae's back yard.
Through his lawyer James Elliott, the 21-year-old Masterton man admitted one charge of theft and two of receiving beehives when he appeared in Masterton District Court yesterday.
He also pleaded guilty to one charge of resisting police and two of obstructing police in regard to a separate incident involving noise control and police on October 6 at his home.
Police prosecutor Sergeant Jodie Lawrence withdrew six counts of theft following the guilty pleas.
She told the court council staff went to the Kitchener St address where McRae, a former beekeeper, lived on September 21 last year following a complaint of swarms of bees in the street.
Staff discovered beehives scattered around the property.
When spoken to by police, McRae said he had bought the beehives from an associate. The hives were identified as belonging to Wairarapa Manuka Honey and Kiwi Beehives, Mrs Lawrence said.
Each beekeeper has a way of setting up hives so they can identify them, the court was told.
"They had been broken down and rebuilt to make up different hives." Another beehive was found at McRae's parents' home.
Between 2012 and 2013, McRae had also sold a number of beehives through Trade Me auction website from between $200 and $4100. Some were recovered and identified as belonging to the two local companies, she told the court.
There were about $100,000 worth of hives stolen from the region with 200 beehives still missing and unaccounted for, Mrs Lawrence said.
Mr Elliott said his client disputed the value of the hives and the lawyer indicated he would be calling an expert to give evidence about the issue. He asked for a disputed facts hearing.
Judge John Bergseng convicted McRae on the charges, remanding him on bail for a disputed facts hearing on March 4.
While the judge also ordered a pre-sentence report be completed, a sentencing date is yet to be set for McRae.
Meanwhile Judge Bergseng convicted McRae on charges of obstructing and resisting police and ordered his return for re-sentencing if he re-offends within six months.
For more articles from this region, go to Wairarapa Times-Age