Address:
Shop M16, Elliott Stables, City.
Phone:
(09) 303 0217
Cuisine:
Latin American
From the menu:
Holy Guacamole ($12), Pork, chicken, fish and beef tacos ($14 for two), Argentinian Asadito ($32), Jamaican fish ($27), Aztec Delight ($14), Flan Frida Kahlo ($11.90)
Drinks:
Fully licensed
Rating:
7/10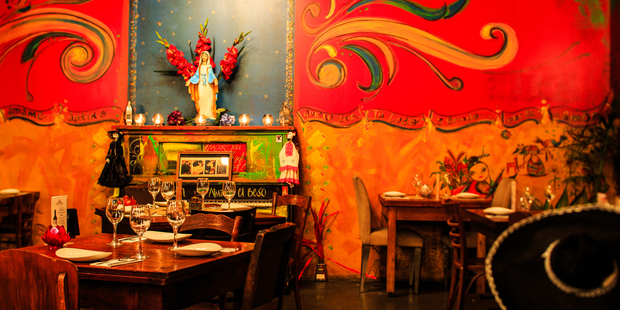 This week's special issue of Viva is, of course, dedicated to Palm Springs, and, searching for a local eatery to fit that theme, there was really only one way to go - south of the border.
Nearly 40 per cent of California's population is made up of Hispanic/Latino people and, luckily for North Americans, that means plenty of amazing food from Central and South America.
I was fortunate enough to be in California last month - not Palm Springs, but Los Angeles and San Francisco - and hit pay dirt on the second day at Loteria, an outdoor Mexican grill at the Original Farmers' Market in West Hollywood, where I scoffed my first fish taco. I was immediately converted.
In San Francisco, I accosted a tattooed bicycle courier at a set of traffic lights for her culinary recommendations and I'll be forever grateful that she sent me to La Taqueria in the Mission district.
So, a challenge, then, to find decent Hispanic/Latino food in Auckland, given our distance from the Americas? Actually, it wasn't hard at all. There are a few restaurants around the city serving up their interpretations of the cuisine, and our burgeoning food truck scene has Otis and Sarah Frizzell's The Lucky Taco, among others.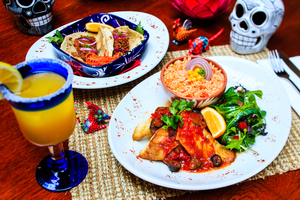 We decided to try out one of the first places to set up shop here. Besos Latinos (which translates as "Latin kisses") bills itself as the "first authentic Latin American restaurant in New Zealand".
You'll find it at the back of Elliott Stables in the central city, but rather than being one of the venue's smaller eateries, Besos Latinos is actually in a vast, open space which feels completely separate from its neighbours.
The decor is delightfully kitsch - Frida Kahlo, Day of the Dead, religious iconography - with huge recesses in the exposed brickwork housing large vases of vibrant flowers, lit from below. There is live music on tonight, and we're presented with sombreros to get into the vibe.
The menu doesn't take itself too seriously - this is a place to have fun - and many of the dishes have tongue-in-cheek names.
We like the sound of most of the menu and find, to our surprise, that ordering is a challenge.
We're so used to shared plates in Auckland restaurants these days that the idea of eating only one main course each and splitting a couple of entrees feels too restrictive.
We plough ahead with a round of tacos - reliving those glory days in LA - and a couple of mains to share. Splitting the tacos served in handmade soft corn tortillas is fine and in the end, the fish - warehou with chipotle mayo, corn and red pepper chutney - is my favourite.
The slow-cooked Yucatan-style pork with pickled red onion is tasty, too, the meat tender and full of flavour, but the chicken, also shredded and cooked with onion and coriander, is a little dry. We are glad we've decided to split the Argentinian Asadito meat plate as it is too much for one person to handle.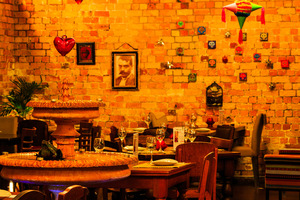 A large grilled Argentinian-style wagyu skirt steak is served with chimichurri salsa, two fat, spicy, chorizo sausages, grilled haloumi cheese and a ham and cheese empanada (deep-fried pastry).
The empanada is a respite from all that meatiness but so out of place on the dish that I wonder if it has fallen off someone else's plate.
It is slightly more difficult to share the Jamaican-style fish of the day (warehou again), which comes with capsicum, tomato, olives, sweet potato and capers. Served with giardiniera rice, the pan-fried fish falls apart at the slightest touch and it disappears within just a few minutes.
The pick of our desserts is the Aztec Delight - super-sweet chunks of guava jelly and an intense, spicy, chocolate ganache, but we're not entirely sure about the Flan Frida Kahlo. The traditional Mexican creme caramel is a little too eggy for our tastes.
So, if you're feeling like a little taste of California after reading our pages today but can't jump on a plane anytime soon, a visit to Besos Latinos may transport you there, for an hour or two at least.


- VIVA