From contemporary global furniture to exquisite antiques, Grey Lynn is a haven for those looking for the unique. Rebecca Barry-Hill goes exploring.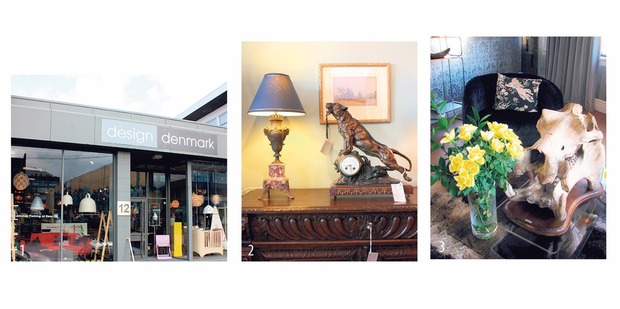 1. DESIGN DENMARK
Bill Carrig fell in love with Danish design when he worked in the shipping industry, and it wasn't long before a change of career was in order. An importing business followed, with Trip Trap setting up in Auckland's Viaduct. You'll still find high-end Danish brands - and some outrageously stylish Fredericia chairs - in this Grey Lynn store. "It's very simplistic, clean and functional design," says the company's graphic designer and online manager Megan Cameron.
Danish designers like to tell a story, she says, and you're purchasing a piece of history if you bring home one of the store's Louis Poulsen lights. "People buy them as heirlooms for their children." Customers can hire their specialty lighting to make sure it's the right look for their home, or relax instore on their new Eilersen couches.
• 24 Maidstone St, designdenmark.co.nz.


2. WAYNE WRIGHT ANTIQUES
Wayne Wright reckons he only speaks decent French after a few wines but that hasn't stopped the experienced dealer bringing home some of Europe's finest antiques.
He's spent 48 years in the business and spends three months of the year in Dordogne in the South of France - plenty of time to scour Europe for decorative pieces and archeological treasures.
Among his latest finds are two 800-year-old French armoirs bedecked with mythical figures, and two exquisite chateau wall panels with original mirrors and oil paintings. Wright's business is a labour of love that's come all the way from Christchurch, after he and his wife Diane relocated after the earthquakes.
• 16 Crummer Rd, waynewright.co.nz.


3. UNO DESIGN
Uno's Kathleen Haimes calls her formerly Sandringham-based design company "quirky, bizarre, extravagant and a touch wild". An attractive skull, aka Boris the hippo, is the shop's current star attraction - until he's adopted, at least. "We don't do cute or kitsch, and lovely is not in our vocabulary," says Haimes, who started the brand 18 years ago. She's constantly on the look-out for classic furniture, lights and objects. Uno specialises in customised pieces, and its small team helps clients renovate with functional yet luxurious New Zealand-made pieces.
• 35a Surrey Cres, unodesign.co.nz.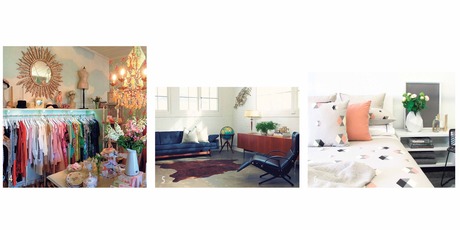 4. ROMANTIQUE
When Tracy Rutherford and Nic Holland's passion for collecting started to take over the house, it was time to turn it into a career. Ten years on, they have two antiques stores (the other is in Hillcrest on the Shore) specialising in French and vintage furniture and giftware. Eagle-eyed shoppers will also spot items from India, Egypt, the US, the UK and Indonesia.
Recently they've added a selection of vintage clothing, jewellery and accessories from the 1930s to the 50s, sourced from New York, France, England and home, plus a New Zealand range from Sharon Steed. But it's the latest haul that has Rutherford in raptures: 50 large boxes of 1920s and 30s French linen featuring monogrammed tablecloths, napkins, tea towels and pillow cases from a chateau in Europe. "It's a once-in-a-lifetime find!"
• 96 Richmond Rd, romantique.co.nz.


5. MR BIGGLESWORTHY
Dan Eagle bought his first chairs when he was just 12. Although not much has changed - he's always on the hunt for the next special piece - he has wife Emma to thank for turning his passion into a business three years ago. What started as a Trade Me hobby is now a retail space brimming with high-end vintage furniture and designs informed by the modernist movement of the mid-20th century.
"It's a place to showcase the things we love and the talented people who created them," says Dan, who finds things within New Zealand and around the world. The latest on the Eagles' must-have list: iconic pieces from American masters Charles and Ray Eames, and an epic 3.2m walnut and marble platform sofa by Adrian Pearsall, which epitomises the grand scale and design of luxurious American interiors during the 1960s. "It's a real show-stopper."
• 15 Williamson Ave, mrbigglesworthy.co.nz.


6. THREAD DESIGN
Fashion-focused bed linen probably wasn't a term bandied about in the days before Thread Design launched. Thirteen years and seven babies later, it's just as well Sarah Sadgrove and Katie Collis do contemporary bed linen and accessories - they'd need their sleep! "We try to maintain a healthy work/life balance which is not always easy," says Collis. Their goal has always been to offer high-quality, locally made designs at a reasonable price, with ranges for single beds to super kings.
They're designed to mix and match - they don't do anything as sets. "We're in love with our latest Hexagon range in blush and black, a modern geometric print on classic natural linen." Here you'll find New Zealand furniture from Meluka, Basement, Timothy John, TomTomJak and Sixbyone, and gifts, fashion and homeware from Ashley and Co, Triumph and Disaster, Bird and Knoll, Saben, plus Mandy Barker's fashion line, MandyB.
• 274 Richmond Rd, threaddesign.co.nz.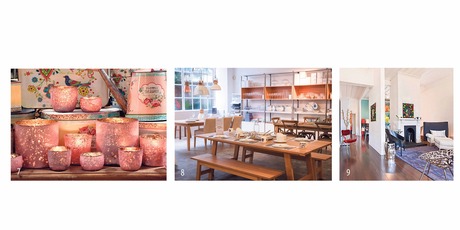 7. FRENCH COUNTRY COLLECTIONS OUTLET STORE
Sonia Watts always wanted to inspire home-makers to bring beautiful things into their homes, something she's been doing since 1987. The wholesale company stocks French- and European-inspired furniture and homeware, with stockists throughout New Zealand and Australia, plus two outlet stores (the other is in Albany). The shop is a treasure-hunter's haven, stocking everything from animal and vegetable-printed ceramics to coloured votives that double as lanterns or vases.
• 8 Pollen St, frenchcountry.co.nz/outlet-store.aspx.


8. CITTA DESIGN
Margot Acland started out importing Italian ceramics before branching out into New Zealand-made furniture, homeware and accessories. Much of what you'll find in the biggest of the three Auckland stores has a relaxed European flavour. Copenhagen is the inspiration behind the winter collection, featuring muted colours, natural materials and clean Scandinavian lines - and a rabbit motif from the Danish fairytale of Rasmus and Mia. Geometric prints are another statement trend, found in everything from cushion covers to plates.
• 34 Westmoreland St, cittadesign.com.


9. INDICE
Philippe Starck, Tokujin Yoshioka, Enzo Mari ... if big-name designers float your boat, you'll find them at this family-run showroom, open since 1985. Hilary and Bryan Skinner and daughter Hannah operate their importing and interior design business from a converted villa layered with European wallpaper, fabric, art, photography, furniture and crafts. They also manufacture furniture locally.
"We wanted to create an inviting, boutique space," says Hannah. "A home away from home." A 28-year relationship with Italian manufacturing company Driade has been fruitful for the Skinners, who share the company's love for unusual materials such as concrete, metal and water. After a recent visit to the Milan Furniture Fair they have vintage Italian pieces, and speciality lighting.
• 4 Rose Rd, indice.co.nz.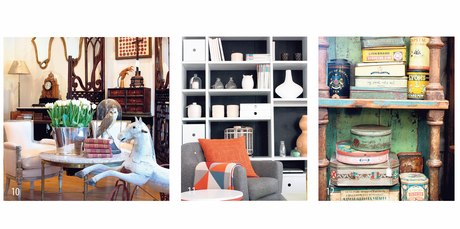 10. EUROPEAN ANTIQUES & FURNISHINGS
Meredith Lee says she only buys things she'd be happy to display in her own home. "The more one-off an item the better!" A corporate escapee who lived for 18 years in Sydney and London, Lee moved home after a nasty brush with meningitis and decided it was time for a change. Going full-time into the antiques business made sense after spending many weekends in France or at London's weekly Bermondsey Fair. Plus, she has twin sister Charlotte to look after the online marketing.
Her home-based store specialises in European antiques, mid-century and original industrial furniture, predominantly from France, England and Belgium, with some Italian, Swedish and German additions. Antique and mid-century garden pieces have proved popular so she's focusing on providing a range of large pots, Doulton sundials, French park benches, decorative sandstone balls and animal statues. Her favourite item is an 1840 Italian rocking chair. "I recently sourced wonderful mid-century Murano chandeliers, which are proving very popular."
• 21 Ariki St, europeanantiques.co.nz.


11. APARTMENTO/MELUKA
Stuart and Melissa Bowman like to keep it in the family - he does the design work while she runs the bright, sunny showroom, which stocks items designed and manufactured in New Zealand. Apartmento started in 1995 and is the more sophisticated, bespoke of the two, while little sister Meluka, started eight years later with friends Lucy and Karen (hence the name) is more casual, specialising in storage solutions.
"When the other girls left to get proper jobs, Stu and I decided we would start manufacturing and retailing alongside the Apartmento brand," says Melissa. "Our philosophy is buy once and buy well." Their latest product is the Meluka SOFAboy range, which comes with four different fabric choices and different colours.
• 6 Crummer Rd, meluka.co.nz, apartment.co.nz.


12. BASHFORD ANTIQUES & INTERIORS
Jillian Bashford-Evers grew up with antiques and started her own collection in her teens. Buying one good item a year is something the former Artex organiser encourages in her younger customers. "Antiques is a very green industry," she says, reclining on one of the shop's fur-draped sofas, her miniature schnauzer Mr Beaumont snoozing nearby. "You're recycling and selling things on to the caretakers of the next generation.
You don't get an instant look like you get with landfill furniture. It's all about your personal perspective." Bashford is now in its 15th year in Grey Lynn following stints in Remuera, and stocks a wide range of rustic yet robust furniture from France and Spain, and more recently, Rajasthan, along with New Zealand art and pottery, religious items and 16th Century Spanish furniture. Check out the 1918 Gerrit Rietveld chair.
• 24 Williamson Ave, bashford.co.nz.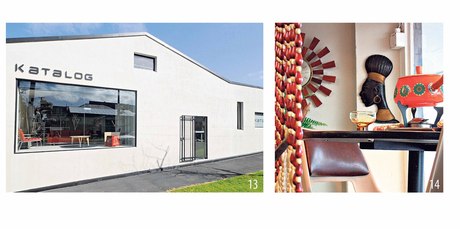 13. KATALOG
In his former life, Greg O'Flaherty was a button-seller and freight agent. Now he's a furniture, homeware, lighting and hardware importer with a penchant for "utilitarian" designs from Germany and Sweden. "I'm not into fussy things," he says. In his spacious store you'll also find an impressive array of hardware (door and cabinet handles, for instance), plus Swedish brands Lammhults and Frost Design, Steng Licht (Germany) and Egoki (Spain). Award-winning German company Nils Holger Moormann designed Katalog's newest addiction, a stunning white Klopstock table with adjustable parts.
• 31 Crummer Rd, katalog.co.nz.


14. INORGANIC FURNITURE
Local boys Andy and Marc have a serious retro addiction. "We're hunters and gatherers," says Marc, who loves the nostalgia of their recycled and restored pieces. Relatively new to the scene, they opened late last year, offering an eclectic mix of industrial and iconic pieces from the 60s, 70s and 80s. Among their ever-evolving collection of furniture, homeware and curiosities are some "amazing" deer antlers from Central Otago, a colourful range of Anglepoise lamps, fun light shades and their personal favourites, architectural plan drawers and lockers from the 60s.
• 428 Richmond Rd, facebook.com/inorganicfurniture.


- VIVA