Angela Casley's picnics are fresh, super tasty and inspired by family favourites.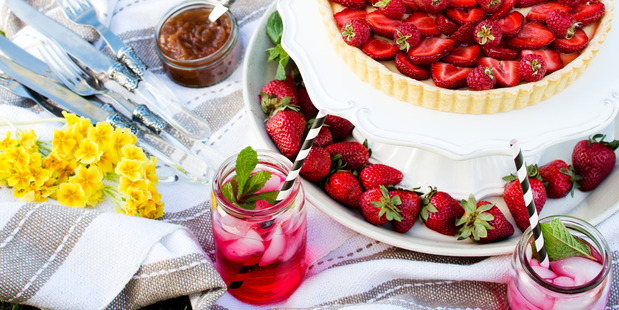 Dust off the picnic blanket, bring out the foldable chairs - it's time to embrace the sunny weather.
When it comes to picnics, it's worth investing the time and effort to put on a good spread. It will always be appreciated.
Turn it into a civilised event with crockery, knives and forks and a chilly bin filled with ice and cold drinks.
Our mother set the standard for picnics when we were growing up. Whether it was a day at the beach or regular pony club outings, she always packed plenty of food to keep hungry appetites - raging from the fresh air and activity - more than satisfied.
Bread rolls were made fresh in the morning. Bacon and egg or mince pies were kept warm in layers of teatowels. There would be savoury eggs, potato salad, chocolate slice, plenty of orange juice and water. And hot coffee and tea on offer with a slice of banana cake... Always enough food to feed all our friends.
The picnics became a huge social event and we never took for granted the effort that went in to such wonderful feasts. It was all so delicious and fun.
Today I've gone with an old favourite, meatloaf. This is a great way to turn humble mince into something very tasty. Everyone has their own twist on it and this recipe has been passed down from our grandparents.
I top it with my homemade onion marmalade before cooking, which adds a little sweetness. Of course, you can buy the onion marmalade or add a number of other flavours: nuts, spinach, herbs from the garden, or you can wrap the meatloaf in bacon.
The list goes on. Serve a generous slab between two slices of fresh bread with a spoonful of chutney. Or serve a slice with creamy mashed potato and salad.
If your picnic is a spontaneous event and you're asked to bring a plate, grab a tin of tuna and throw the fish into a coleslaw with plenty of pepper and salt or, as I have done here, add it to a tin of cannellini beans, char-grilled vegetables, lemon and herbs. You'll be ready to walk out the door with a fabulous looking dish in 20 minutes.
Strawberries are a sure sign summer is around the corner. The ones in the stores at the moment aren't quite sweet enough to eat alone, but as a topping on a delicious homemade custard tart they are perfect picnic fare.
This decadent strawberry tart takes me back to a memorable picnic at Henley-on-Thames in England. My cousin and I spent two days cooking in her tiny London flat for the crowd we had invited.
I'm not sure we watched much rowing, but plenty of Champagne was drunk. Making individual tarts is a great option as they're easy to eat outdoors or standing up. As other berries start to come into season, try this tart with raspberries or - my favourite berry of all - boysenberries.


Recipes:
• Meatloaf
• Tuna and Cannellini Salad
• Strawberry Tart
- VIVA